Blade Runner 2049
Review by Myla Tosatto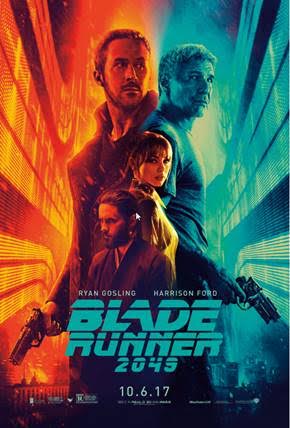 In order not to give ANY spoilers away about Denis Villeneuve's Blade Runner 2049, I'm not going to bring up the plot. I won't say who is human or who the replicants (androids) might be. I will not mention any cameos or twists or anything that the studio doesn't want me to (and trust me, the list is LONG). You will go in fresh and unburdened, which is how it should be. I will say that it is gorgeous and a fitting sequel to the 1982 original. Villeneuve made one of my favorite movies of 2016, Arrival. If you loved the beauty and pace of that movie, you will most certainly love this. Ryan Gosling as K and Harrison Ford, revising his role as Deckard, are exactly how you need them to be: rugged and vulnerable.
Not only is the movie an action packed science fiction film, it's also a dark noir surrounding a mystery that happens directly after the first movie. Blade Runner 2049 is brooding and stylish and makes you want to visit Los Angeles, San Diego and Las Vegas before the apocalypse happens. Trust me, you will never look at San Diego the same away again after seeing this movie.
That's it, dear readers. My hands are tied. Go see the movie. But maybe watch the original first. It isn't necessary, the title credits explain a lot. However, your emotional payoff will be magnificent if you do go back for a re-watch. And who doesn't like to see Harrison Ford circa 1982?
**RATED R
Thirty years after the events of the first film, a new blade runner, LAPD Officer K (Ryan Gosling), unearths a long-buried secret that has the potential to plunge what's left of society into chaos. K's discovery leads him on a quest to find Rick Deckard (Harrison Ford), a former LAPD blade runner who has been missing for 30 years.
Purchase discounted tickets by using 
Dealflicks.com
! Feel free to save an additional 20% by using the code RFGGTRFLUF at checkout!