I am so excited for Boss Baby!  Both of my kids have just been wanting to see this movie so bad.  Even my 7 year old, said that kids were talking about this movie in school! So when I was asked if I wanted to send Enza's Bargains readers to an advanced screening, I didn't bat an eye!  Be sure to enter and grab  your free tickets to see Boss Baby with us for this Saturday!
B&B Shawnee 18
16301 Midland Dr.
Shawnee, KS 66217
DATE AND TIME:
Saturday, March 11, 2017  at 10:00am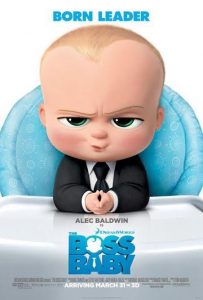 Kansas City Exclusive E-mail List for Enza's Bargains
If you are in KC and want me to e-mail you free movie passes, giveaways, and information on local entertainment please be sure to subscribe to my e-mail!  Those who have subscribed get first dibs usually on tickets and giveaways! Subscribe HERE.  Now since you have subscribed, be sure to fill out the form for your official entry!
ABOUT BOSS BABY!

DreamWorks Animation and the director of Madagascar invite you to meet a most unusual baby. He wears a suit, speaks with the voice and wit of Alec Baldwin, and stars in the animated comedy, DreamWorks' The Boss Baby. The Boss Baby is a hilariously universal story about how a new baby's arrival impacts a family, told from the point of view of a delightfully unreliable narrator, a wildly imaginative 7 year old named Tim. With a sly, heart-filled message about the importance of family, DreamWorks' The Boss Baby is an authentic and broadly appealing original comedy for all ages.