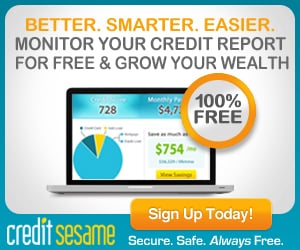 I love Credit Sesame!  Takes just a couple of minutes to do!  Since I started using them my score has gone up 50 points!!  It is FREE! They never ask for any pmt info and they never tried to spam or call me! Find out where you stand!  This was featured on New York Times, TODAY, Wall Street Journal, and CNN Money!
Know where you stand for FREE!
A huge part of couponing is to get your finances back in check!!!  Have you been wondering what your credit score is but haven't wanted to pay to find out???  Here is your chance!!  Credit Sesame gives you a credit score for FREE!
I did try this offer for myself because I wanted to make sure it didn't ask for any payment and it didn't!  Completely FREE!!  Only took a couple of minutes!!!  Credit Sesame is going to be by new tool I use more often!!!
If you haven't checked your score lately, HERE is your chance!!!!  My score was where I thought it would be!!!  Check yours today!!!
If you like this post you will LOVE  15 ways to Cut Expenses & Top 5 Money Mistakes to Avoid!