There was so much research and strategic storytelling that went into the creation of this movie by these three that it really was an amazing way to celebrate the Mexican culture and traditions of family and remembrance. When I had the opportunity to interview Director Lee Unkrich, Writer & Co-Director Adrian Molina and Producer Darla K. Anderson for Disney•Pixar's COCO! These three individuals did an amazing job at really making sure they knew what they were writing about, told an amazing culture, and made sure that it was told in the most beautiful possible way they knew how!
This is Pixar the details that go into the film and even the post-production all have a purpose and area all done with such integrity from the most talented people in the industry.
To these three people it was really important that they premiered the movie in Mexico first and allowed their country to have that celebration. They also said a non negotiable was that they cast all Latino actors in this film.
5 Things I leaned during the Interview:
Lee and Adrian both have voices in the movie. There own little cameos!
There are some nods to living and dead in the movie. See if you can find them!
It was important that the movie premiered first in Mexico.
They filled the film with famous Mexican Cameos.
They learned early on that this belief that we can die multiple deaths: heart stops, buried, and when nobody remembers you.
COCO Director Lee Unkrich, Writer & Co-Director Adrian Molina and Producer Darla K. Anderson Interview
On Pixar Making us Cry:
Lee Ukrich: I don't know that I like making you cry, but I like making you feel something. I mean, I know that when I go and see movies, they're very few and far between where I, where I actually feel genuine emotion or, or a movie really sticks with me after I've seen it. So, you know, when we make our movies we try to do that. There's no guarantee that we'll be able to, but I think, you know, that's the most satisfying for us if we can have the audience feel something personal to themselves and, we know we're on the right track when we have those feelings ourselves.

Darla Anderson: To feel all those feelings you've had to go on a journey with all of our character, and you've had to, you know, laugh with them and be on big adventure with them, and become completely invested with them. We have to earn, we have to earn all of that emotion. So, it comes out of a multitude of the emotions from the movie.
About Cameos:
Adrian Molina: There's only two cameos of, of actual living people in the film. One is Michael Giacchino, and the other is our music consultant, Camilo Lara, who plays the Dj at the party.
On Making a "Timeless Movie":
Lee Ukrich: We were always striving to make a film that felt kind of timeless. It's not, it's kind of set know, but I'm hoping that it will always feel like it's kinda set now. No matter when people see it.
Was Cantinflas an inspiration in the movie?
Lee Ukrich: We were so immersed in, in our research for so many years that it's inevitable that things would infuse their way into the film that we weren't consciously trying to put there. But just was cause that was, that was the world we were living in and creating from.
About the biggest challenge?

Adrian Molina: There's a lot of pieces to this story, and I think when you're watching it the first time through, a lot of them can be hidden, and that's by design. But there's a, there's a very certain order to what the characters know about each other and what they say to each other, and who's in the room when. And, and it just took a lot of iteration to figure out how to put these puzzle pieces together. On top of that, there's the fact that this is a tradition that a certain portion of the audience is going to be very familiar with, and then another very large portion is going to have no idea.
Disney•Pixar's "Coco" opens NOW playing in theaters.
In Disney•Pixar's "Coco," aspiring musician and young boy named Miguel (voice of Anthony Gonzalez) teams up with charming trickster and new friend named Héctor (voice of Gael García Bernal) on an extraordinary journey through the Land of the Dead.
This movie is about family, tradition, love, and remembrance! It is an amazing movie you won't want to miss and you will want to take your family to see it this Thanksgiving!
Find a special 20 minute short prior to COCO called "Olaf's Frozen Adventures." Exclusively playing prior to COCO in theaters everywhere!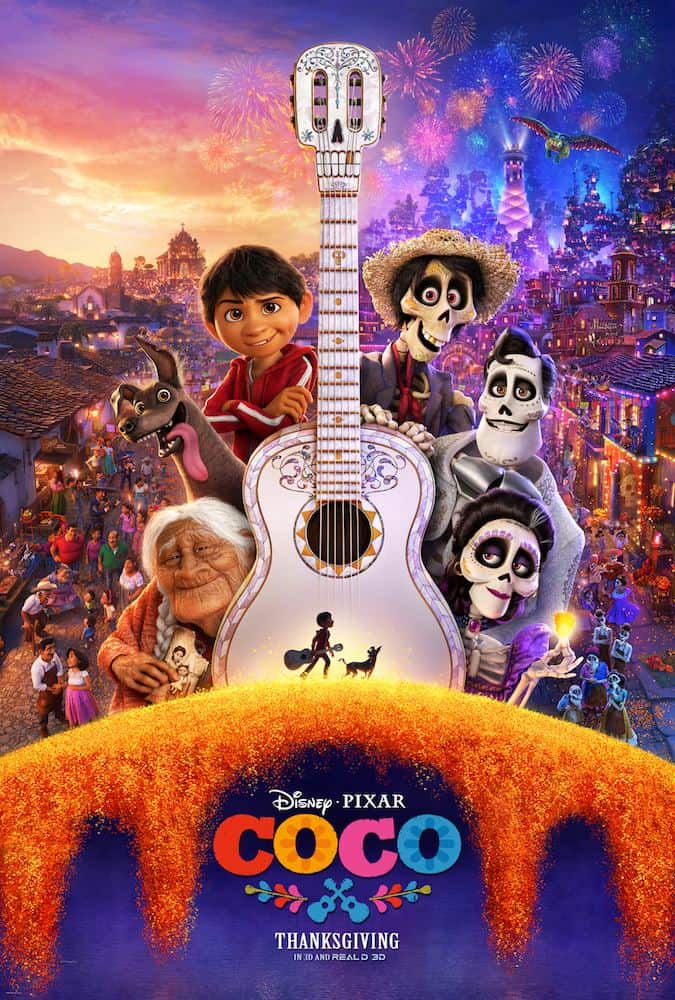 Get your family some reserved seats at the closest theater for this Thanksgiving.  Use our affiliate links below to help save money and possibly earn us a little bit too.  Purchase discounted tickets by using Dealflicks.com! Feel free to save an additional 20% by using the code RFGGTRFLUF at checkout or reserve your seats at Fandango.com.