The Holidays are HERE and the next big Disney movie is COCO!  (NOW playing in theaters)!  We loved the movie so much and if you haven't seen it yet, we know your family will too!  When I went to the press junket and Red Carpet, I was given some amazing toys from Disney.  Disclosure: This post contains our affiliate links if you choose to make a purchase of any of these toys!

I like to have my gifts picked out and wrapped as soon as possible in order to enjoy the wrapped presents under our tree.  It is one of my favorite times of years.  Picking toys can be tough, but I can assure you that all of these toys are brand new!  So here are the top Disney toys that just came out this year. They make for some really amazing gifts!
INSERT TOY GUIDE PINTEREST IMAGE
2017 COCO Gift Guide

Miguel Plush Figure: Not only is this one of my favorite toys I received, but Alanna Ubach, prior to our interview, grabbed it and started hugging my toy. She was rocking it like a baby and all excited about it! It was the first time she had seen it!  I would have to say the details and quality of this toy is so great.  The hoodies stays on, he has a cute little white tank under his jacket, and the mask stays attached to the hoodie.  It is totally adorable and an awesome quality!

Celebrate the fantasical wonder of Coco with this soft figure of its hero Miguel. His hoodie sweatshirt has a working zipper and features a felt facepaint mask that makes him look just as he does in the movie.

Celebrate the epic musical adventure from PIXAR, Coco, with this singing figure of its star Miguel. He comes with a guitar and two interchangeable heads, one with festive face paint.
Funko Pop Figures: They come in Miguel, Ernesto, and Hector!
Celebrate the fantastical wonder of PIXAR's Coco with this Pop! Vinyl Figures. As a chase variant special edition, fans have a one-in-six random chance to get Miguel without his face paint.

Celebrate the wonder of life and remembrances of the past with this charming, colorful mug inspired by PIXAR's Coco. With its guitar and festive design themes, this mug is sure to become a morning favorite.

Celebrate the magical, musical adventure of Coco with this cool, colorful faux leather journal. Embroidered cover details and over 150 lined pages make this a treasure for life.
"Coco: A Story about Music, Shoes, and Family" Book:

Inspired by PIXAR Animation Studios' latest film, Coco, this middle grade novel retells the story of Miguel's daring adventure, and features exciting new scenes about his family.
"Coco: Miguel and the Grand Harmony" Book: 

Featuring a beautiful original story based on the characters of PIXAR's Coco, as well as vibrant stylized artwork. Miguel and the Grand Harmony is sure to appeal to readers of all ages.

This beautifully illustrated Little Golden Book retells all the excitement and adventure of Disney/Pixar's Coco. It's perfect for children ages 2 to 5.

Make PIXAR's colorful family adventure sing with this Coco Soundtrack CD. The collection includes the film's signature song Remember Me by Kristen Anderson-Lopez and Robert Lopez.
Reusable Tote:

You and your family can carry all your favorite things in this colorful Coco shopping bag with festive art styling. Made from 80% recycled materials to help keep spirits bright forever.

Coco Little Golden Book (Disney/Pixar Coco)

Disney Pixar Coco Day of the Death Miguel 19 Inch Plush

Funko Pop! Disney #303 Disney/Pixar Coco Miguel

Disney Pixar Coco Day of the Death Spirit Enchanted Dante Alebrije 15 Inch Plush

Disney Pixar COCO – Dante – Plush Toy

Funko Pop! Disney #304 Disney/Pixar Coco Ernesto

Disney Coco Singing Miguel Figure

Disney Miguel Mug – Coco 465034687755

Disney Coco Journal

Coco: A Story about Music, Shoes, and Family

Coco: The Junior Novelization (Disney/Pixar Coco)

Coco Little Golden Book (Disney/Pixar Coco)

Coco: Miguel and the Grand Harmony

Coco Big Golden Book (Disney/Pixar Coco)

Coco
Disney•Pixar's "Coco" is NOW playing in theaters!.
In Disney•Pixar's "Coco," aspiring musician and young boy named Miguel (voice of Anthony Gonzalez) teams up with charming trickster and new friend named Héctor (voice of Gael García Bernal) on an extraordinary journey through the Land of the Dead.
This movie is about family, tradition, love, and remembrance! It is an amazing movie you won't want to miss and you will want to take your family to see it this Thanksgiving!
Find a special 20 minute short prior to COCO called "Olaf's Frozen Adventures." Exclusively playing prior to COCO in theaters everywhere!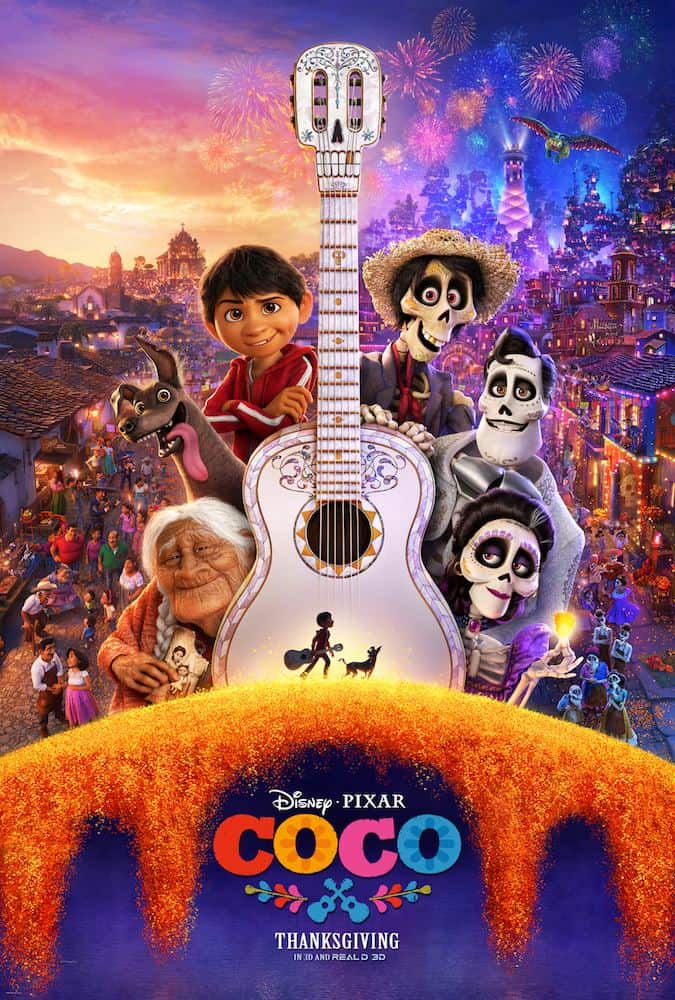 Get your family some reserved seats at the closest theater for this Thanksgiving.  Use our affiliate links below to help save money and possibly earn us a little bit too.  Purchase discounted tickets by using Dealflicks.com! Feel free to save an additional 20% by using the code RFGGTRFLUF at checkout or reserve your seats at Fandango.com.