I recently drove to St. Louis for a meet and greet with the CEO of Cricut, Asish Arora. I was one of those people who has had a package of Infusible Ink Transfer seats sitting on my desk for months. I was intimidated to use it, but I finally built up enough confidence to try it out! I recorded my very try using it on a non Cricut shirt because I prepared to mess up. This post contains affiliate links which at no cost to you means we might earn a commission if you make a purchase.

When you are using Cricut Infusible Ink you are supposed to only put it on material that is 95% polyester and 5% spandex. My shirt was 92% and 8% and it worked good. I am okay if the black fades a little bit after several washes. I then decided to try it on my Posh Home reversible pillows and add names to them to see if it would burn and melt the sequins. Here is what to do if you wanted to try what I did!
Cricut Infusible Ink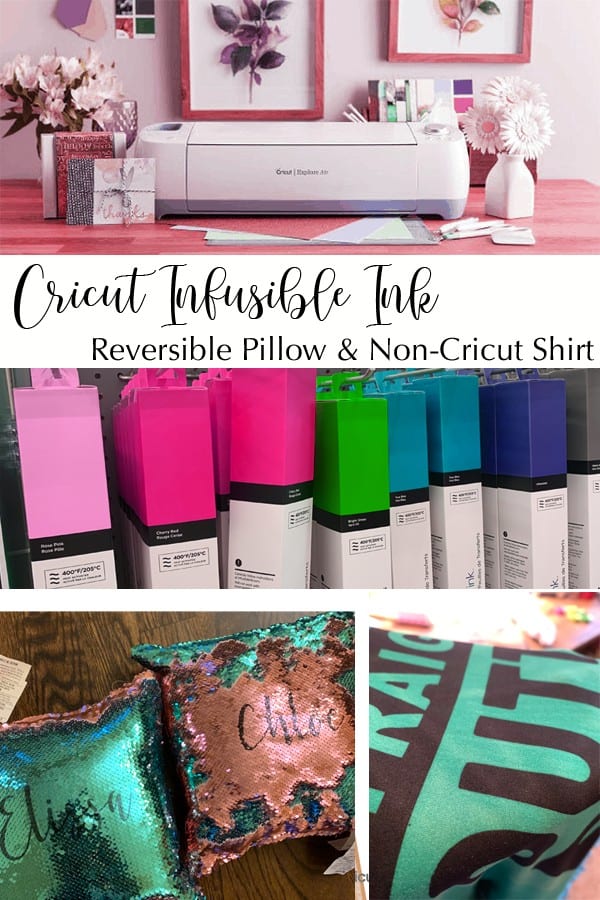 You definitely want to make sure that you are following the instructions that Cricut gives when you are using Infusible Ink. I am going to start with shirts. You can totally try it shirts that are CLOSE to the 95%/5% combo but they aren't going to be as vibrant, but they are totally good enough for me! Here is what you need:
Cricut Shirts (Exclusive)
Easy Press (VERY important you have one that fits your entire area and is the right and equal temp).
Other Shirts (check your local Walmart, I don't see it listed online)
Infusible Ink
Butcher Paper
What you will do is you will cut your design in reverse on the Infusible Ink setting. Weed it. I found it easier to first remove it from the mat and then weed it. It stays put together keeping the cuts less likely to curve on you. It is almost like weeding card stock that is stuck to a sticker back paper. So similar to HTV wedding BUT much thicker and a little bit more sensitive.

You want to make sure your fabric is clean so use a lint roller on a clean board. Add three sheets of butcher paper in the material. Then follow the instructions on the Cricut Heat Guide!

The results are amazing! It is so much better than screen printing which is what I thought it would look like. It is so awesome! I can't wait to buy more shirts in this material. I also want to try to add glitter HTV over it! If you are new to Cricut be sure to check out my Tips for Beginners!
Watch my short video of making this shirt on Tik Tok.
Infusible Ink Reverse Sequins Pillows

If you have tried making a Reverse Sequins pillows with vinyl and permanent markers, you will never go back once you try using Infusible Ink. This is by far the best and easiest Infusible Ink Project that has to exist. Other than the butcher paper sheet that comes with the Transfers, all you have to do is press it! It is so easy to do and the results are beautiful. I can't wait to make more designs.
What you need is Cricut Infusible Transfers, Easy Press, and I used Sequins Pillows! That is it! That is all you need! Design, mirror, cut, weed, and press! What adorable gifts these will make! If you are lucky you will find some of these Reverse Sequins pillows on sale! You will press it with a butcher paper over the transfer and then your Easy Press at 120 seconds at 360 degrees.