I have been working with Dealspotr for awhile now and I have earned $615 in Amazon Gift Cards. It is really easy to do! You can totally make way more than I have if you are consistent in meeting every day's tasks! Whether you looking to save money for your Amazon shopping for a toy, a product you need, or gift items, Dealspotr can help you with all of that. I have had others say that they have trouble finding deals but keep in mind you can create different scenarios with online coupon codes and even product SALE items that you find in clearance sections online at your favorite stores!!!  This post is a sponsored post, but all opinions, stories, and my experience are all personal and true (like always)! I love Dealspotr!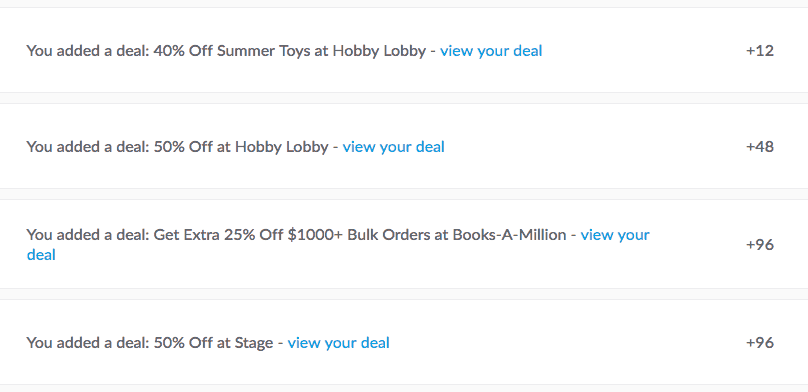 What is Dealspotr?
Dealspotr is the world's first crowd-sourced savings site. All of their deals are curated and edited by our community, made up of deal hunters, couponers, and shoppers just like you. It is a great way where you can avoid expired deals or a code that does not work! Plus, you can earn rewards for helping others save.  While shopping on their site you can find exclusive deals, promo codes, product deals, online sales, in-store, free shipping, freebies, bogo, starting soon, and even your own saves!  You can store your favorite stores and also find out what deals are trending on their website! I love this feature!  While you are there, don't forget you can also set up your favorite interests!  I have mine set to electronics, fashion, restaurants, home and a lot more!  This makes navigating through the site a fun way to shop online!
Here are some TIPS in signing up and begin EARNING and SAVING!
. You can earn easy 220 MORE FREE POINTS by completing your profile and following people: 30 for adding a profile picture.  30 for commenting on a deal. 100 for posting your first deal. 30 for following 10 people (tip just go to my profile or someone else's and follow some of those folks they follow). 30 for following 20 stores (I just go to the most popular ones and follow straight down).
IF you are a social media influencer or blogger you can earn more. You earn double points. Which means you earn 10 Amazon Gift Cards in the time it takes others to earn 5 Amazon Gifts. Either way it's extra money in your pocket.
Complete your "checklist" each day – this is 200 easy points.
To earn MORE points for each deal it is best to not find them all at the same store! Also the more you fill out the form, the more points you get! These deals can be anything from e-mail sign ups, to coupons, to coupon codes!  I feel like I get more points when I post coupon codes!  Throughout the week you can just type these in when you find them in your inbox!!!
Besides just earning rewards, you can always shop through Dealspotr!  Use their website to find the best deals and be sure you validate those deals that work, that way the community knows that what is listed on the site if valuable, works, and is going to save you money!  Be sure to connect and follow with other Dealspotr users to help you as your learn to use their website!


I just redeemed a $30 Amazon Gift Card!


You are already spending time to find these great deals to save some money, so why don't you earn money at the same time! Sign up is easy! Just click on the green box that says "JOIN" in the upper right corner! Be sure to complete your profile to earn the extra points and get started on your checklist! Are you ready to start earning amazon gift cards? Simply visit Dealspotr and sign up now! Any questions…let me know and I will be happy to help you!