WOW! We have TONS of FREE tickets to give away to Disney's Newsies in Kansas City! There are 3 different shows and we are giving away family 4 packs to EACH show!  If you have never attended a show, you won't want to miss out!  It is an amazing and award winning production and is a perfect family date!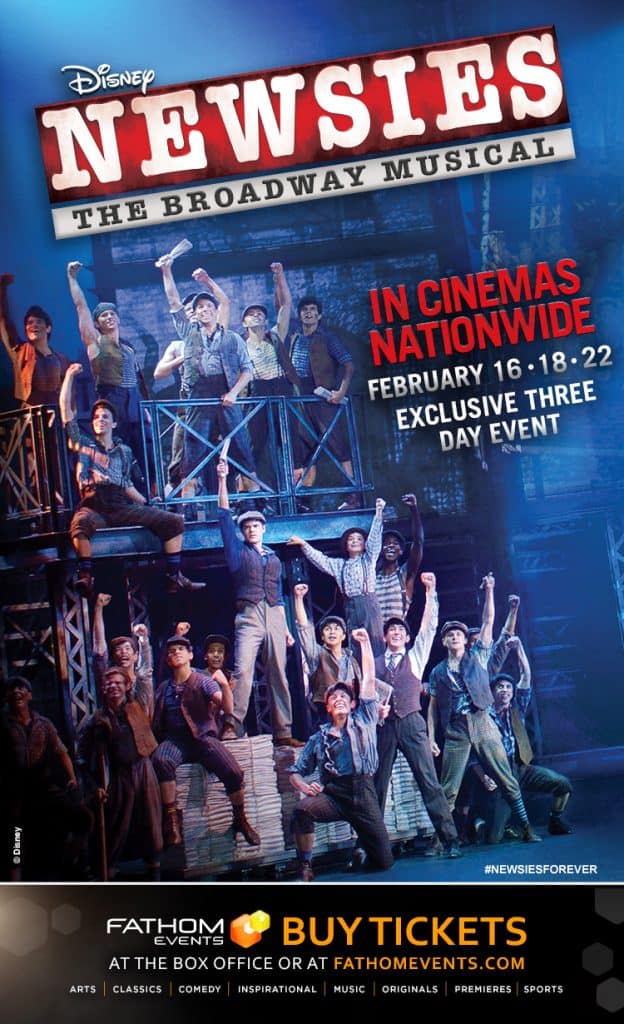 Straight from the Broadway stage, Fathom Events and Disney Theatrical Productions are thrilled to bring the Tony Award®-winning musical NEWSIES to cinemas nationwide in an exclusive three-day event on February 16, 18 and 22.
Filmed live on stage at the Pantages Theatre in Hollywood, CA, this not-to-be-missed high energy show stars Original Broadway cast members Jeremy Jordan as "Jack Kelly," Kara Lindsay as "Katherine," Ben Fankhauser as "Davey" and Andrew Keenan-Bolger as "Crutchie". They're joined by North American Tour stars Steve Blanchard as "Joseph Pulitzer," and Aisha de Haas as "Medda Larkin," and Ethan Steiner as "Les" along with members of both the Broadway and North American Tour ensembles, filling the stage with more "newsies" and more dancing than ever before.
Set in New York City at the turn of the century and based on a true story, Newsies is the rousing tale of Jack Kelly, a charismatic newsboy and leader of a ragged band of teenaged 'newsies,' who dreams only of a better life far from the hardship of the streets. But when publishing titans Joseph Pulitzer and William Randolph Hearst raise distribution prices at the newsboys' expense, Jack finds a cause to fight for and rallies newsies from across the city to strike and take a stand for what's right.
Dates and Times:
Thursday, February 16 at 7:00pm
Saturday, February 18 at 12:55pm
Wednesday, February, 22 at 7:00pm
Kansas City Exclusive E-mail List for Enza's Bargains
If you are in KC and want me to e-mail you free movie passes, giveaways, and information on local entertainment please be sure to subscribe to my e-mail!  Those who have subscribed get first dibs usually on tickets and giveaways! Subscribe HERE.  Now since you have subscribed, be sure to fill out the form for your official entry!
Disney's Newsies Kansas City Free Tickets Giveaway