Looking for a fun craft that you can make over and over again? Try DIY chalk paint. Put some color chalk in a plastic bag and crush to get it into a fine powder. Then, add it to a storage container, pour in some water and shake. Let your kids decorate the driveway, front walk or backyard. It will keep them occupied for hours!  This post may contain affiliate links.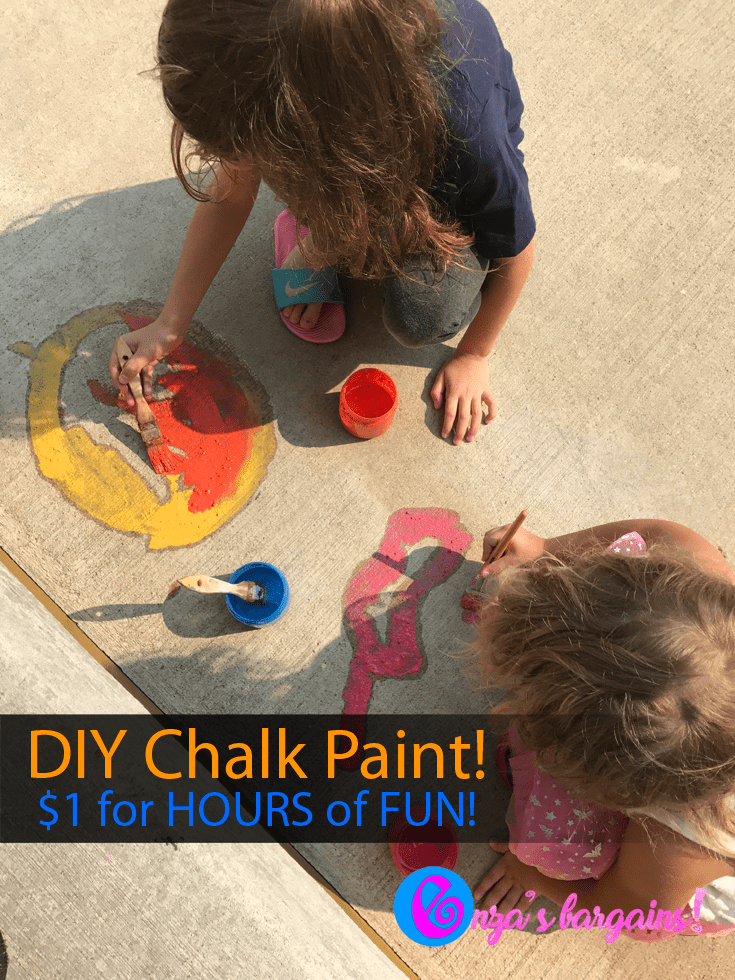 How to make DIY Chalk Paint:
 Purchase some chalk!  We like the purchase the big fat sidewalk chalk. I have found them at the dollar store but Target sells the Crayola chalk for for a 24ct for $2.39.
This is the most frugal way to make DIY chalk paint! You can either use a cheese grader or I like to place my chalk in a plastic bag and bang it up with a small hammer!  Maybe it will help you with aggression, I am not sure.  Be sure to do each color separately.  The smoother the chalk the better the paint!
Take each color of powdered chalk now and place it in a small Tupperware container.
Add hot water to the same level as the chalk and mix or shake really well. Use some paint brushes you already have at home or buy a cheap stock of brushes to keep at home!

Chalk Paint is so much more fun than regular chalk!  It looks so much more concentrated, the colors are bolder, and the excitement to get to paint with a paintbrush is never boring no matter what age you might be!  My kids have a blast playing with chalk paint every time I make it!  $1 worth of Sidewalk Chalk is a good hours worth of entertainment!  Want to make it even more fun? Invite your neighbor kids over for some energy burning creativity!