If you ask me what are some of my favorite things to do, watching movies with my family ranks right up there. My kids love to have movie night:  they cuddle up on the rug in front of the tv with their blankets and bowls of popcorn.  Recently I had a chance to review Doctor Strange with my family and we loved it! On the plus side, as of today it was released on DVD! YAY!! Now you guys can watch it for yourself. (Come back and tell me how you liked it!)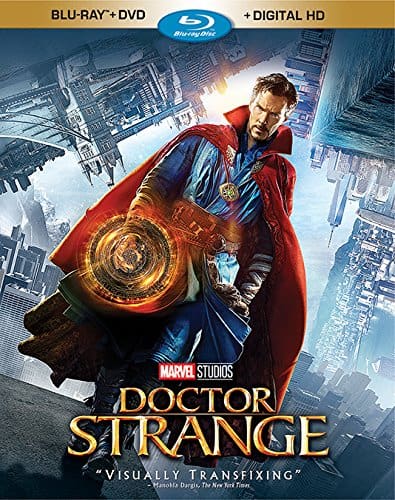 Marvel Studios presents "Doctor Strange," the story of Doctor Stephen Strange, the Master of the Mystic Arts, who made his first appearance in Marvel comics in 1963.

The story follows world-famous neurosurgeon Dr. Stephen Strange, whose life changes forever after a horrific car accident robs him of the use of his hands. When traditional medicine fails him, he is forced to look for healing, and hope, in an unlikely place—a mysterious enclave known as Kamar-Taj. He quickly learns that this is not just a center for healing but also the front line of a battle against unseen dark forces bent on destroying our reality. Before long Strange—armed with newly acquired magical powers—is forced to choose whether to return to his life of fortune and status or leave it all behind to defend the world as the most powerful sorcerer in existence.
Usually on movie night the husband and I tend to disagree on what movie we are going to watch; however, we both really loved this movie. The bonus features were awesome! With some yummy popcorn, lights off, and Doctor Strange in the DVD player…equals a great family movie night!