If you are stumbling this post, there is a good chance you have already seen the awesome Dog Days movie!  We sent Movie Myla Tosatto to review the film.  We are also giving away an awesome prize pack (includes a $50 Fandango Gift Card) so be sure to enter by clicking the link on the bottom of this page!
We love movies and quotes. If you have favorite Dog Days Quotes to share, be sure to comment below as we continue to grow our list!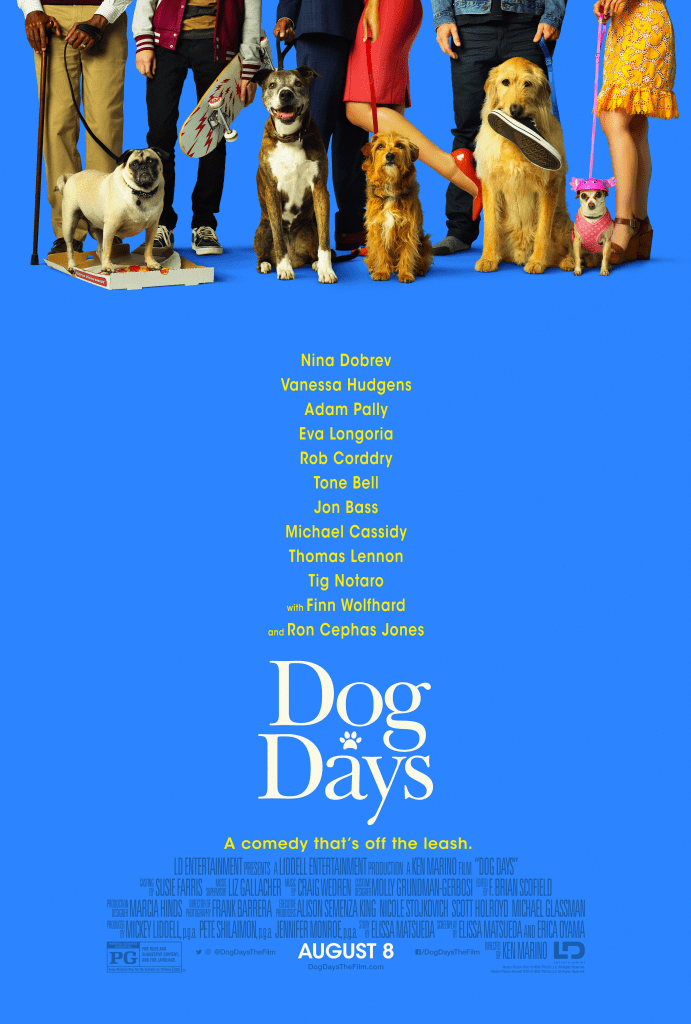 Dog Day Quotes
"I would tell you, but then I would have to charge you."- Danielle (Tig Notaro)
"I always thought that marketing was grocery shopping."- Daisy (Lauren Lapkus)
"Charlie, I love you but can you take a nap?"- Ruth (Jessica Lowe)
"No offense but is your dog pregnant or super fat?"- Tyler (Finn Wolfhard)
"You have momma brain. This is your baby shower."- Greg (Thomas Lennon)
"You're making two human beings and I'm proud of you."- Greg
"I'm feeling sexy."- Dax (Adam Pally)
"Hello, Doctor. I love blue scrubs day."- Tara (Vanessa Hudgens)
"One small coffee." Tara
"ONE SMALL COFFEE!"- Garrett (Jon Bass)
"I thought you were a giant beige rat."- Vanessa to Gertrude
"This is the best place to talk about bowel movements."-Danielle
"I will be aquí. Aquí?"- Tara
"It's Tara. Doesn't matter. Okay, love you. Bye."- Tara
"Hey."- Dax
"Run."- Greg
"Frunk? What's that?"- Ruth
"It's a typo at best."- Greg
"Say the word Frunk one more time. . ."- Ruth to Dax
"Mr. Pepperoni, your dog's still fat."- Tyler
"Run free, dog."- Dax to Charlie
"You think I look terrific?"- Jimmy (Tone Bell)
"What if I told you how to athlete?"- Elizabeth (Nina Dobrev)
"Flags are completely different."- Elizabeth
"Just go in the corner. You have my blessing."- Dax to Charlie
"Why Gertrude?"- Tara
"After Gertrude Stein."- Garrett
"I almost don't recognize you without steam coming out of your ears."- Jimmy
"Guys are just the worst."- Jimmy
"Finally something we agree on."- Elizabeth
"Nobody wants schnapps."- Nina (Toks Olagundoye)
"JUST PEE ANYWHERE!"- Dax to Charlie
"Sorry. I'm very into this conversation."- Amy (Jessica Lowe)
"Well, it's a date."- Jimmy
"It's a dog date."- Elizabeth
"It's a dog date."- Jimmy
"Can we keep her?"- Amelia (Elizabeth Phoenix Caro)
"Oh look, you have a baby Transformer."- Tyler
"Oh, Pizza Boy reads."- Walter (Ron Cephas Jones)
"There's a lot of her to love."- Rob Corddry
"You like IPA's. "- Dax to Charlie
"Don't say anything about her ankles."- Greg
"My 16th birthday was at Bed Bath and Beyond."- Garrett
"Public awareness is my favorite awareness."- Garrett
"Look what you made me do."- Dax to Charlie
"Eat dog food and die."- Elizabeth
"Your hands are like trash compactors."- Peter (Ryan Hansen)
"Oh hi, puppy."- Tara to Charlie
"Who doesn't love clowns?"- Elizabeth
"Where is the bean water?- Elizabeth's co host (Ken Marino)
"Someone give this coffee a hard hat because it's working!"- Elizabeth's co host
"This one. This is our day."- Walter
"I think I adopted three terriers and a small pony."- The Mayor (Mo Gaffney)
*****
Dog Days is NOW playing in theaters! Get your tickets today!
Remember to ENTER the awesome Dog Days Giveaway by clicking on the image below: