We are so excited to not only share our contributor's Dog Days Review but to also give away an awesome prize pack that includes a $50 Fandango Gift Card to one lucky reader!  Be sure to enter below! Also don't forget to check out your Dog Days Quotes list!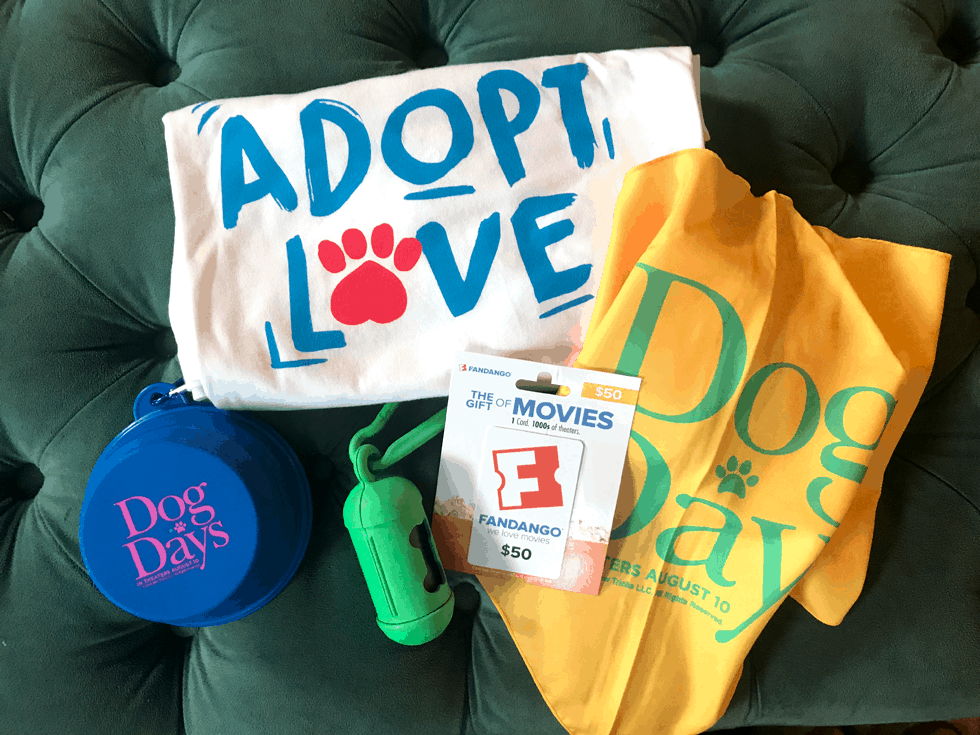 Dog Days Review
by Myla Tosatto
Yes, Dog Days is a fluffy-tail wagging-lump in your throat-mash up of a comedy. But it is also the best kind of comedy- FUNNY!! I was expecting the heartwarming stories, I didn't expect it to be so hilarious. I should have never second guessed the director, Ken Marino. He obviously had great faith in his screenwriters (Elissa Matsueda and Erica Oyama) and his long list of actors. It paid off. He made a movie that tugs on your heart as your rolling with laughter.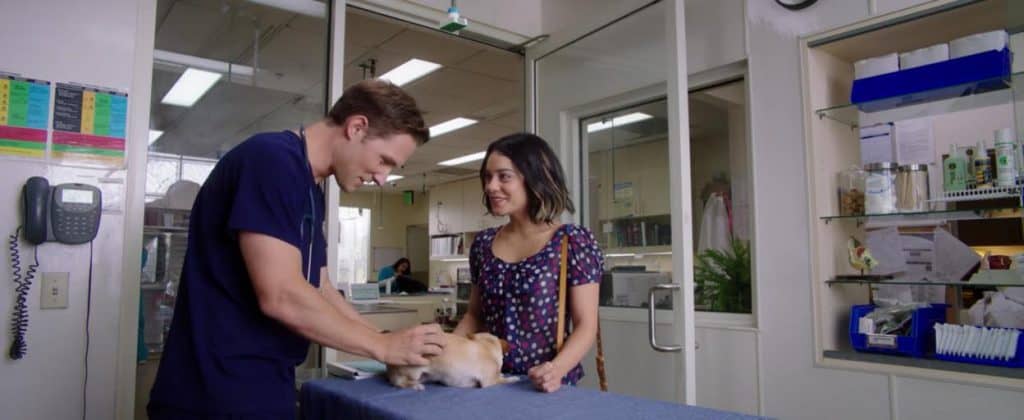 Marino made something a little different here, though. He made an obviously hereto unknown subgenre of movies, the adoption comedy. Bet you didn't see that coming either! Not only do the titular dogs get adopted, but the humans figuratively do as well- a mom and dad (Eva Longoria and Rob Corddry) literally adopt Amelia (Elizabeth Phoenix Caro), a pizza boy (Finn Wolfhard) and a retired professor (Ron Cephas Jones) find each other, an aimless guitarist (Adam Polly) takes in a dog from his sister and her husband (Jessica St. Clair and Thomas Lennon), TV personalities (Nina Dobrev and Tone Bell) fall in love, and two generous people (Vanessa Hudgens and Jon Bass) discover a cause and each other. And did I mention dogs? You will be so overwhelmed by the cuteness, you won't be able to stand it!
The neat thing about this movie is that it is rated PG. You can take anyone and everyone to see it! No, really! Your little friends are going to enjoy it as much as your grandparents. I think (though don't quote me) that even cat people will like this one.
On the outside this movie looks like just another formulaic episodic piece. You know going in that people will fall in love, a dog may run off, a dog will die. . . That's what I was expecting. That's what happens. What I got also was a thoroughly enjoyable laugh riot. I can't wait for you to see it.
Dog Days is NOW playing in theaters! Get your tickets today!
Dog Days Giveaway
Enter for a chance to win a Dog Days prize pack for you and your best friend! My two little minpins loved posing for the giveaway. Rainbow the brown dog even loved eating the Fandango gift card. I think she really wants to see the movie with me! Lucky (the black minpin, is turning 14 years old this month) is ready for a nap.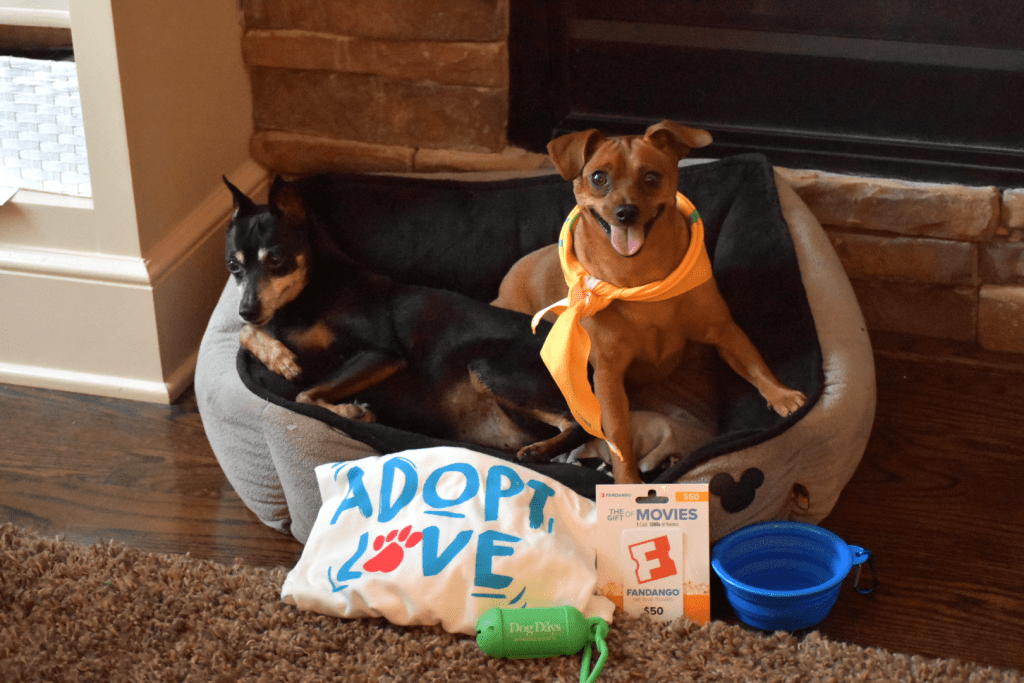 Prize:
Collapsible Dog Bowl (color may vary)
Doggy Bag Dispenser (color may vary)
Dog Bandana (color may vary) – NOTE: The bandana does have the wrong date on it. The release date is August 8, NOT August 10th, the studio changed the date.
Adopt Love T-Shirt (size & color may vary)
$50 Fandango Gift Card to take your family to see DOG DAYS in theaters
a Rafflecopter giveaway