I am so ? that the Emoji Movie Tour is headed to Kansas City at Union Station!  If you are trying to look for where The Emoji Movie Tour might stop you won't have to look because on 7/10/17 from 12pm – 6pm you can stop by Union Station for some really ? and ? fun!  Don't forget to bring socks because those are usually a must in ball pits!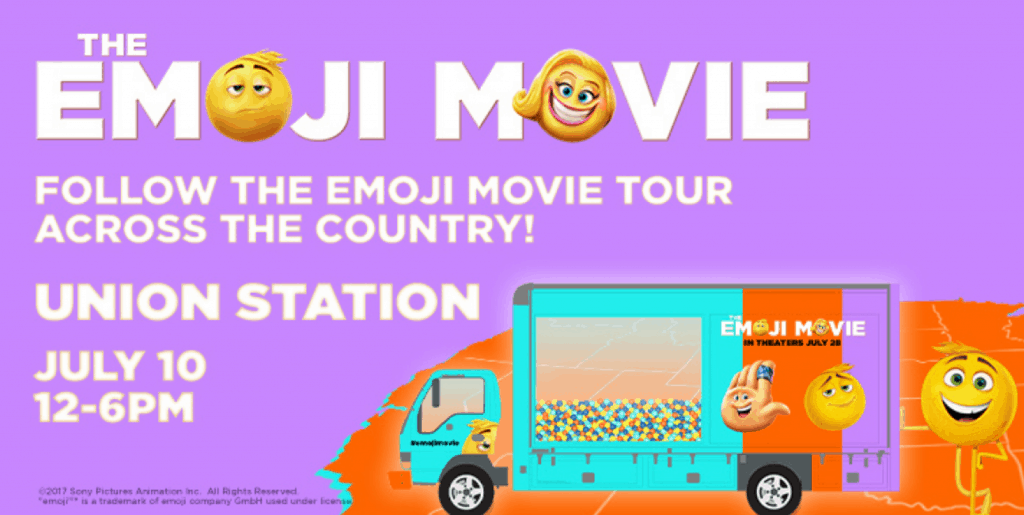 Just go to the front ? lot and enjoy what they event has to offer:
The EMOJI Movie Tour
Join us as we celebrate upcoming release of Sony Pictures' The Emoji Movie with Hi-5 and Gene, characters from the film. The tour truck activation will be at Union Station for a day of fun activities including a boomerang photo booth in an emoji-filled ball pit, corn hole game and selfie station with the Emojis!
My kids have not stopped talking about this movie ever since seeing the previews! It comes out ON my Birthday so my daughter keeps telling me we should see it for my birthday! I am hoping to see it before then!
The Emoji Movie opens Friday, July 28th!
Kansas City Exclusive E-mail List for Enza's Bargains
If you are in KC and want me to e-mail you free movie passes, giveaways, and information on local entertainment please be sure to subscribe to my e-mail!  Those who have subscribed get first dibs usually on tickets and giveaways! Subscribe HERE.  Now since you have subscribed, be sure to fill out the form for your official entry!