Hurry Hurry! We have tickets to Ferdinand! Tickets are limited, this is a small theater! Be sure to grab your tickets and be sure if you can't attend you cancel your reservation so that anyone on the waiting list can attend! A lot of times the studios will open up even more tickets to EB readers because you guys are amazing and awesome and so grateful!
ALSO, if you are in KC we accidentally lost our KC e-mail list when switching servers. Please be sure you sign up for our new KC list on the link below. It is not the same.  Next time we will download and double check out list before we delete it. 🙂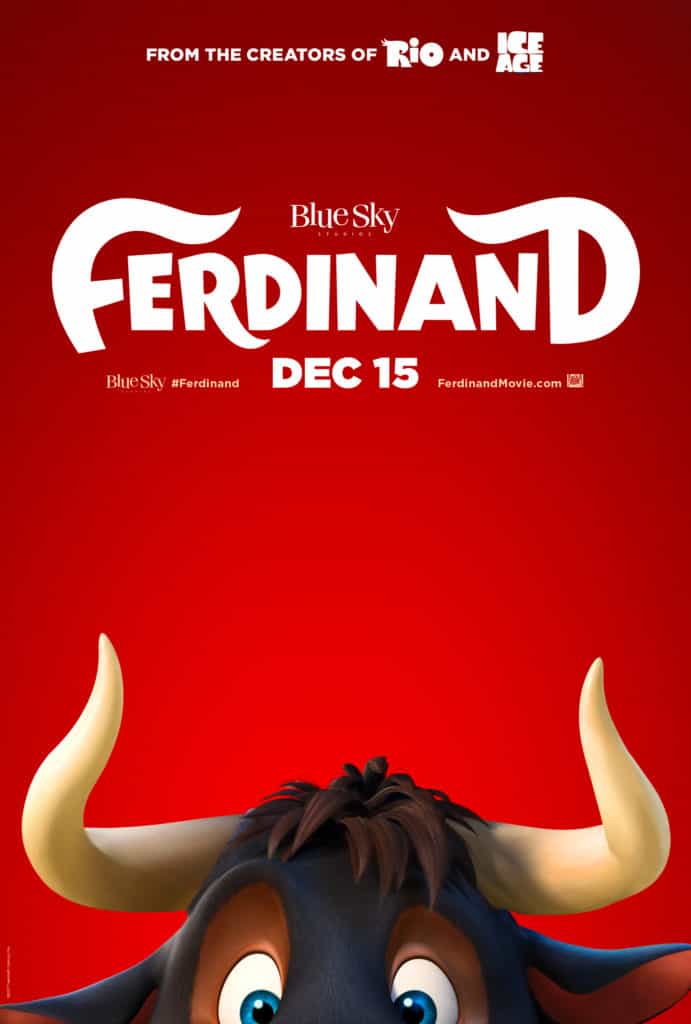 Ferdinand's cast includes: John Cena, Kate McKinnon, Anthony Anderson, Bobby Cannavale, Peyton Manning, Gina Rodriguez, Miguel Angel Silvestre, David Tennant,Flula Borg, Jerrod Carmichael, Daveed Diggs, Gabriel Iglesias, Juanes, Boris Kodjoe, Karla Martínez, Jeremy Sisto, Sally Phillips!
FERDINAND tells the story of a giant bull with a big heart. After being mistaken for a dangerous beast, he is captured and torn from his home. Determined to return to his family, he rallies a misfit team on the ultimate adventure. Set in Spain, Ferdinand proves you can't judge a bull by its cover. From Blue Sky Studios and Carlos Saldanha, the director of "Rio" and inspired by the beloved book "The Story of Ferdinand" by Munro Leaf and Robert Lawson, "Ferdinand" is a heartwarming animated comedy adventure with an all-star cast that includes John Cena, Kate McKinnon, Gina Rodriguez, Anthony Anderson and many more.
Ferdinand Kansas City Screening
Cinemark 20 w/ XD
Saturday, December 9th
10:30AM
Sign up for a chance to see the film HERE.
**NEW** Kansas City Exclusive E-mail List for Enza's Bargains
We had to start our e-mail list over from scratch.  Be sure you have subscribed again (if you were already on it).
If you are in KC and want me to e-mail you free movie passes, giveaways, and information on local entertainment please be sure to subscribe to my **NEW** e-mail!  Those who have subscribed get first dibs usually on tickets and giveaways! Subscribe HERE.  Now since you have subscribed, be sure to fill out the form for your official entry!