There were lots of great and funny Ferdinand Quotes in the movie Ferdinand. There were also a lot of great lines from other characters in the movie! If you haven't had a chance to read our review yet, please do! We will be publishing a giveaway soon for the movie! We want to know your favorite quote from the movie. If you have seen Ferdinand, this is probably what brought you to this post! Thank you for stopping by and be sure to check out all of our other favorite movie quotes lists!
Ferdinand Quotes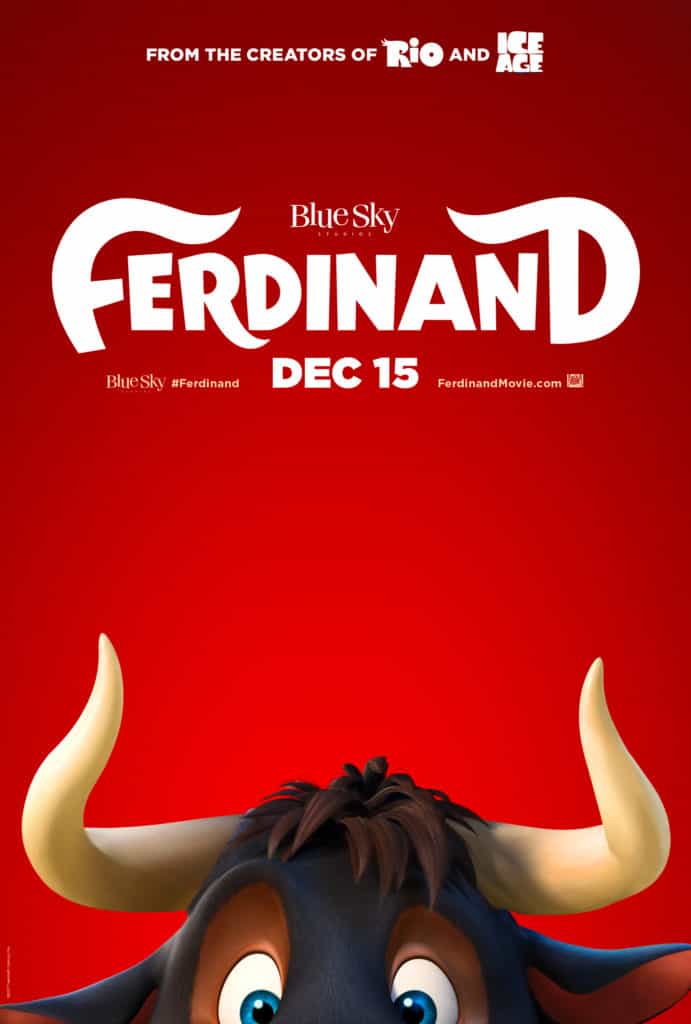 "Can I have a chance without fighting maybe?" – Young Ferdinand
"I really wish that is how the world worked, Ferdinand." – Dad
"I called it, that bull was soft and the soft ones always go down." –????
"Oh you like flowers. I'll take good care of you." –Young Nina
"Hey who's my good boy? You're my good boy." -Nina to Ferdinand
"I thought I was your good boy." – Paco
"Hey it's going to be a good on. I can feel it in my horns." -Ferdinand
"Who said a chicken can't fly." -Ferdinand
"A dog and a bull can not be brothers." -Paco
"Flower festival, here I come!" –Ferdinand
"The beast go my baby!" – Isabella
"A baby? Where?" –Ferdinand
"Oh no, okay think thin." -Ferdinand
"Let me take him home, he is gentle." -Little girl
"Get the calming goat!"
"Hi my name is Lupe and I am the calming goat." -Lupe
"Believe it or not, I am not the best calming goat." -Lupe
"Did you really eat a baby?" -Lupe
"You think I ate a baby?!" -Ferdinand
"You're not denying it." – Lupe
"Wait til I tell the others they are going to fertilize the lawn!" -Lupe
"Ain't that right, F-bomb." -Lupe
"Hey we are not filthy wiesels, we are filthy hedgehogs." – Una
"The best against the best. The best against the best.." -Primero
"Yeah that is ridonkulous." – Lupe
"You are either a fighter or you're meat." – Val
"You're not soft. You're not a flower bull." -Lupe
"If we don't look out for each other, who will? -Ferdinand
"It was for me." -Valiente
"Don't look at it as a fight. Look at it as a dance." -Lupe
"I have fallen and I can't giddyup." –Horse
"Do you really think I am going to throw away my 3 day dream?" -Lupe
"My dad he was the greatest bull I knew. He really believed he can beat the matador. All of them did. The bull never wins." -Ferdinand
"No bull wins ever!" -Ferdinand
Ferdinand's cast includes: John Cena, Kate McKinnon, Anthony Anderson, Bobby Cannavale, Peyton Manning, Gina Rodriguez, Miguel Angel Silvestre, David Tennant,Flula Borg, Jerrod Carmichael, Daveed Diggs, Gabriel Iglesias, Juanes, Boris Kodjoe, Karla Martínez, Jeremy Sisto, Sally Phillips!
FERDINAND tells the story of a giant bull with a big heart. After being mistaken for a dangerous beast, he is captured and torn from his home. Determined to return to his family, he rallies a misfit team on the ultimate adventure. Set in Spain, Ferdinand proves you can't judge a bull by its cover. From Blue Sky Studios and Carlos Saldanha, the director of "Rio" and inspired by the beloved book "The Story of Ferdinand" by Munro Leaf and Robert Lawson, "Ferdinand" is a heartwarming animated comedy adventure with an all-star cast that includes John Cena, Kate McKinnon, Gina Rodriguez, Anthony Anderson and many more.
Purchase discounted tickets by using Dealflicks.com! Feel free to save an additional 20% by using the code RFGGTRFLUF at checkout!