Who is excited for a good fight and a great comedy?!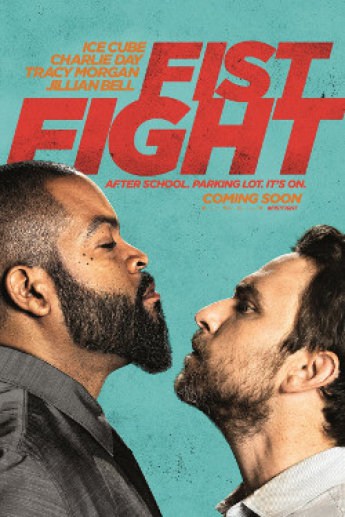 As a high school teacher and comedy fan, I loved Fist Fight. Fist Fight was everything I expected it to be and more! It stars Ice Cube who I met a couple of years ago and Charlie Day who stars in "It's Always Sunny in Philadelphia." They are both great comedians and actors. The movie is about a teacher who gets another teacher fired and they settle it the old fashioned way with an epic fist fight. Throughout the movie, they reference the hashtag #TeacherFight which I think is pretty silly.
This movie is definitely not "school" or "kid" appropriate, but it is really funny! There were some great jokes and lines in the movie as well! Be sure to check our favorite list of Fist Fight Movie Quotes!
Ice Cube ("Barbershop: The Next Cut," the "Ride Along" movies) and Charlie Day ("Horrible Bosses," "It's Always Sunny in Philadelphia") star as high school teachers prepared to solve their differences the hard way in the comedy "Fist Fight," directed by Richie Keen ("It's Always Sunny in Philadelphia").

On the last day of the school year, mild-mannered high school English teacher Andy Campbell (Day) is trying his best to keep it together amidst outrageous senior pranks, a dysfunctional administration and budget cuts that are putting his job on the line just as his wife is expecting their second baby.

But things go from bad to worse when Campbell crosses the school's toughest and most feared teacher, Ron Strickland (Ice Cube), causing Strickland to be fired. To Campbell's shock—not to mention utter terror—Strickland responds by challenging him to a fist fight after school. News of the fight spreads like wildfire as Campbell takes ever more desperate measures to avoid getting the crap beaten out of him. But if he actually shows up and throws down, it may end up being the very thing this school, and Andy Campbell, needed.

WEBSITE: http://fistfightmovie.com/

RATING: R for "language throughout, sexual content/nudity and drug material
Purchase discounted tickets by using Dealflicks.com! Feel free to save an additional 20% by using the code RFGGTRFLUF at checkout!