Gael Garcia Bernal Interview for Disney•Pixar's COCO
I met Gael Garcia Bernal and he is beautiful, talented, and beautiful (yep, I said it twice)! This is the first time I interviewed him and it was for this amazing film – Disney•Pixar's COCO! He is nice, he is talented, and he can sing – that is what I learned! He spoke very highly of his family, which also makes me believe he is a family man. He had seen the movie already in Mexico, since the Day of the Dead is celebrated much more and the movie's world premiere was last month in Mexico City.
Gael Garcia Bernal plays the voice of "Hector" in the movie. Hector is a scrappy, streetwise skeleton that Miguel teams up with in the movie to try to find his musical past. Hector has his own goal during their journey which doesn't necessarily match Miguel's journey.

Héctor, a charming trickster in the Land of the Dead, enlists Miguel's help to visit the Land of the Living. "He desperately wants to cross the bridge of marigolds on Día de los Muertos," says co-director Adrian Molina. "But there's a rule that if no one in the Land of the Living is actively remembering you—if no one has put your photo up on an ofrenda—then there's no one in the Land of the Living to receive you and you cannot cross over."
He said he remembers going to Pixar and they took his voice and his interview when he was on the Chelsea Handler show, and made his character pretend like he was on that show instead. Once he landed the part he had lots of fun experiences including getting to record with hid daughter! He talked about her being able to have that moment forever. Here are some of our favorite Q&A's from the interview!
Gael Garcia Bernal Interview
About the casting process: "They animate certain interviews or shows or films you've done and they put like those dialogues into Hector, you know, and so there's, this was this interview I did with I think it was with Chelsea Handler, I mean the show of Chelsea. And they put it as if Hector was going into the show of Chelsea, you know? So, they showed you that and I mean it was really funny, it worked."
What accepting the part an easy decision?: "It was so easy, I mean of course it was like, I mean it was daunting the fact that I had to sing but I like the challenge of it. "
About others learning about the Day of the Dead?: "some of you must have been very, I mean must be very familiar with day of the dead celebration. But if you're not, then you saw the day of the dead celebration or tradition is a very open and very you know, very generous…it is a very generous and open and what they did to it, I mean is that they grabbed little aspects from each region in Mexico, not trying to you know, to get everything in you know, but having a very personal also point of view around it."
About Day of the Dead in Mexico?: "Well, I think and we were discussing it with a lot of friends and family in Mexico like we've never seen the day of the dead so celebrated in Mexico. Like really, there was not a sense of Halloween at all this year, like you couldn't see it, like it was all the day of the dead because also there is now, they're doing in Mexico they're doing a wonderful carnival."
How was it recording with your own daughter?: Ah, it was beautiful, it was beautiful, it's gonna be I mean it's one of those moments that, I mean, acting definitely gives you such I mean so much moments of that you think, 'we're so lucky, you know, I'm so lucky we're doing this job,' you know."

Disney•Pixar's "Coco" opens in U.S. theaters on Nov. 22, 2017.
In Disney•Pixar's "Coco," aspiring musician and young boy named Miguel (voice of Anthony Gonzalez) teams up with charming trickster and new friend named Héctor (voice of Gael García Bernal) on an extraordinary journey through the Land of the Dead.
This movie is about family, tradition, love, and remembrance! It is an amazing movie you won't want to miss and you will want to take your family to see it this Thanksgiving!
Find a special 20 minute short prior to COCO called "Olaf's Frozen Adventures." Exclusively playing prior to COCO in theaters everywhere!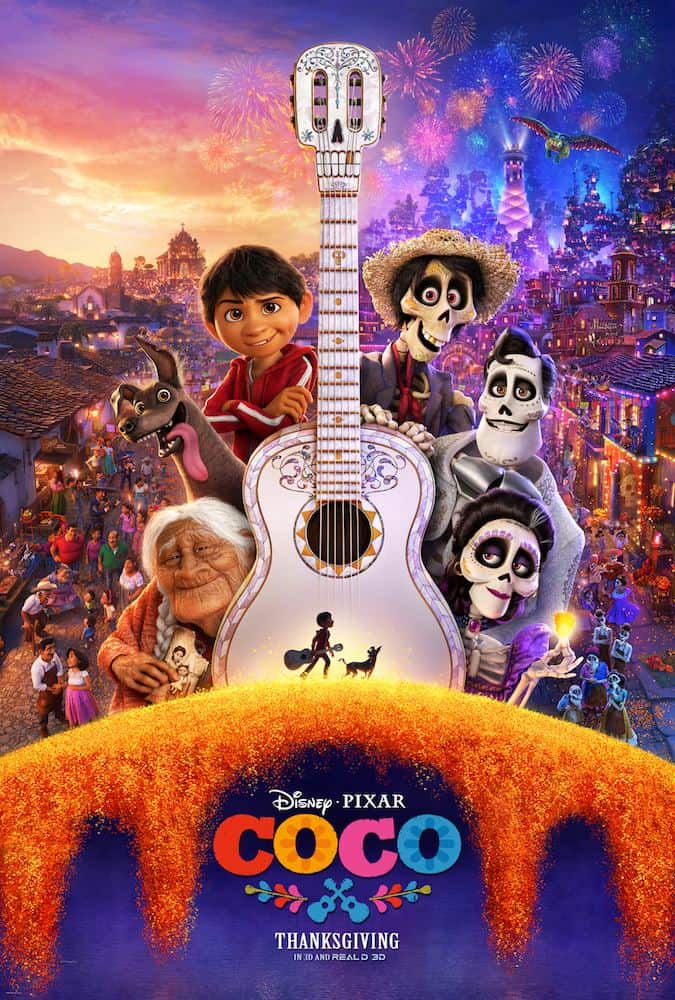 Get your family some reserved seats at the closest theater for this Thanksgiving.  Use our affiliate links below to help save money and possibly earn us a little bit too.  Purchase discounted tickets by using Dealflicks.com! Feel free to save an additional 20% by using the code RFGGTRFLUF at checkout or reserve your seats at Fandango.com.