Gifted is out in theaters! If you came across our list of Gifted Movie Quotes you have probably seen this movie. Myla reviewed the film and she came up with her list of her favorite lines from the movie!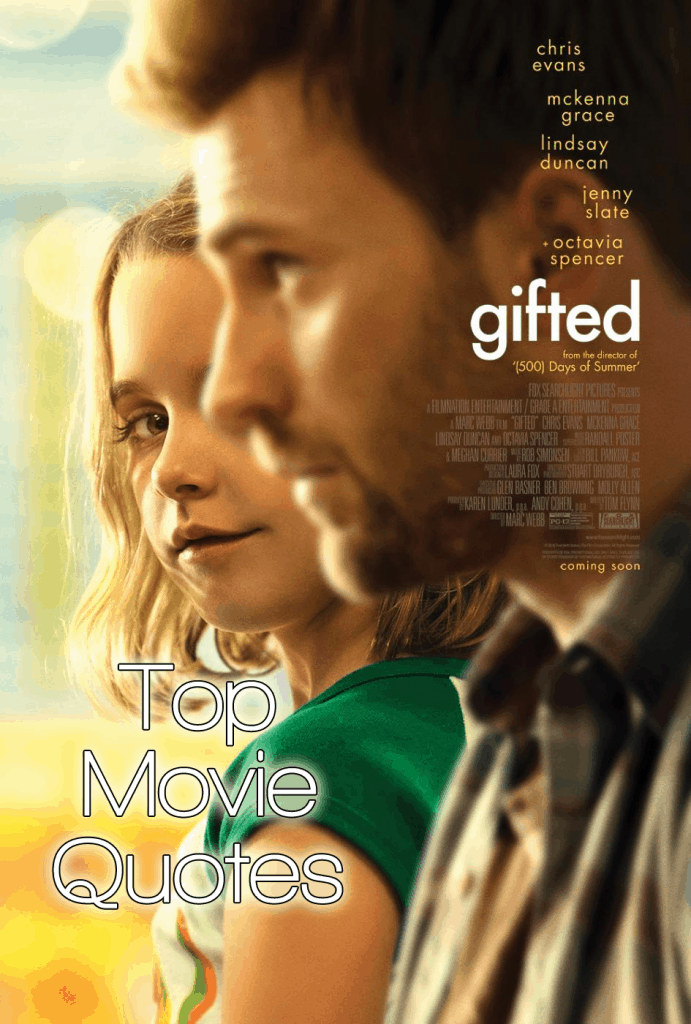 Gifted Movie Quotes
"I made you a special breakfast."- Frank Adler (Chris Evans)
"You can't cook."- Mary Adler (McKenna Grace)
"You look beautiful."- Frank
"I look like a Disney character."- Mary
"Come on, Roberta. If you start crying, then I have to pretend to start crying."- Frank to Roberta
"3+3? Really?"- Mary about a math problem
"I have a very strange kid."- Bonnie (Jenny Slate) about Mary
"I have 27 strange kids."- Teacher Carly Rosen (Candace B. Harris)
"But she's seven."- Bonnie talking about Mary's capabilities
"I learned it at eight. Do I look gifted to you?"- Frank
"I'm sorry. I'm still passively aggressively ignoring you."- Frank to Mary
"Fred's not a killer, he's a lover."- Mary about her one eyed cat
"Just dumb her down to a decent human being. Everybody wins."- Frank to the school's admin
"Hitting people is wrong, even if they're bad. I won't do it again so don't be afraid of me."- Mary's unapologetic apology
"Say goodnight to 'Grandmother', or 'Evelyn'."- Frank after Evelyn wouldn't be called grandma
"You're playing Russian Roulette with your skin. You look like a porn producer."- Evelyn to Frank about the importance of sunscreen
"My lawyer told me to get drunk."- Frank to Bonnie
"Who was your first celebrity crush?"- Bonnie playing a drinking game with Frank
"Mona from Who's the Boss."- Frank
"I got mad at you. I got mad at me. And all the manufacturers of Lego. They should all be in jail."- Frank to Mary after a fight
"Roberta's not my age. She's 40. . .50. . .30ish. . ."- Mary about her closest friend
"He has a cowboy hat and cowboy boots and a horse that doesn't know dressage."- The ever proper Evelyn about her Montana living husband
"You drive like an old lady."- Mary
"It's Florida. I'm trying to fit in."- Frank
NOW Playing in theaters!
Frank Adler (Chris Evans) is a single man raising a child prodigy – his spirited young niece Mary (Mckenna Grace) – in a coastal town in Florida. Frank's plans for a normal school life for Mary are foiled when the seven-year-old's mathematical abilities come to the attention of Frank's formidable mother Evelyn (Lindsay Duncan) whose plans for her granddaughter threaten to separate Frank and Mary. Octavia Spencer plays Roberta, Frank and Mary's landlady and best friend. Jenny Slate is Mary's teacher, Bonnie, a young woman whose concern for her student develops into a connection with her uncle as well.
Purchase discounted tickets by using
Dealflicks.com
! Feel free to save an additional 20% by using the code RFGGTRFLUF at checkout!