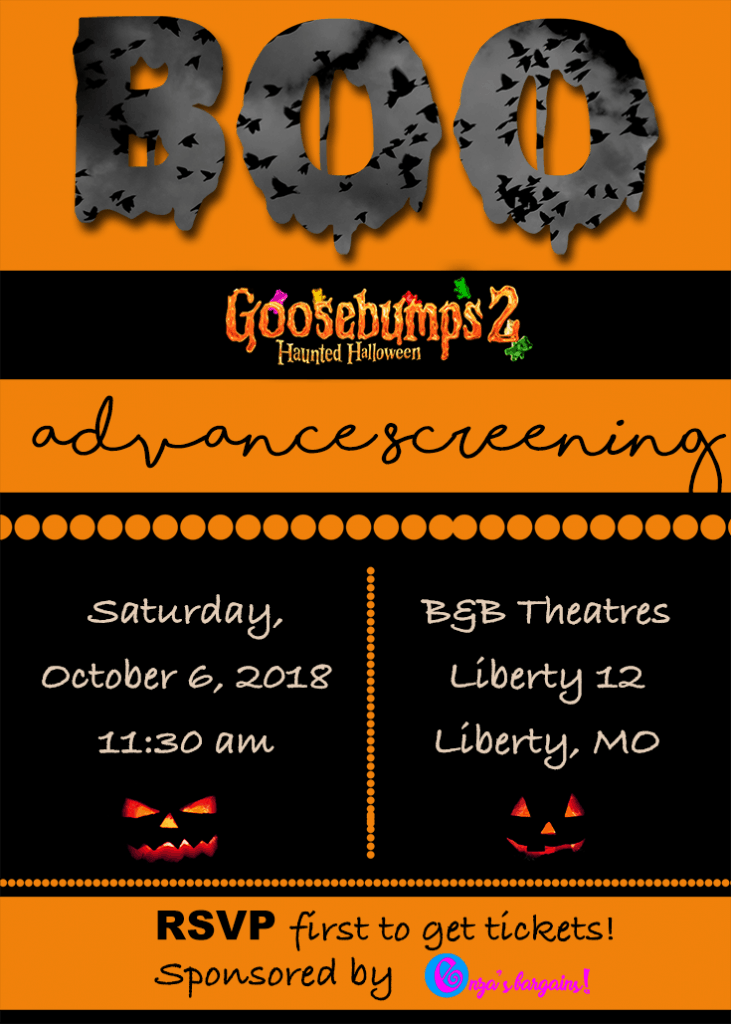 We are so excited for the new Goosebumps 2 movie!  We have watched the trailer and literally laughed out loud to the scary gummy bears.  After all, aren't gummy bears scary the way they attach to momma's hips?  Just kidding!
If there is one thing that separates a good movie with a bad one is the story line.  With an R.L. Stine inspired story, Sony has some fun family entertainment you won't want to miss to get you in the Halloween Spirit!
Join us this Saturday 10/6 at B&B Theatres Liberty 12 Cinema at 11:30AM! Just RSVP early to get your tickets!  Also, be sure to arrive early because the studio sent us some awesome gifts to share with all of you who arrive early!  We have T-shirts, Halloween treat bags, school pencil pouches and bags.
RSVP by clicking here!  Remember tickets aren't guaranteed.  Arrive early. If your plans change please be sure to cancel your reservation so that someone on the waiting list can attend the screening.
Thanks to our friends at The Owens Group, we have your chance to check out Sony's latest film 

GOOSEBUMPS

 2: HAUNTED HALLOWEEN, which opens in theaters October 12! The Kansas City advanced screening will be on Saturday 10/6 at 11:30AM at B&B Theaters Liberty 12 Cinemas. Claim your family 4-pack of passes here: http://www.sonyscreenings.com/GOOSEBUMPSenzaKC. (Passes available on a first come, first-serve basis). Attendees will also get cool movie swag (while supplies last). In the meantime, get a sneak peek of the movie here: http://www.

goosebumps

.movie/!
**NEW** Kansas City Exclusive E-mail List for Enza's Bargains
We had to start our e-mail list over from scratch.  Be sure you have subscribed again (if you were already on it).
If you are in KC and want me to e-mail you free movie passes, giveaways, and information on local entertainment please be sure to subscribe to my **NEW** e-mail!  Those who have subscribed get first dibs usually on tickets and giveaways! Subscribe HERE.  Now since you have subscribed, be sure to fill out the form for your official entry!