I was really excited to get sent Olga and the Smelly Thing from Nowhere and Stick Cat to review on the blog.  When my copies arrived, I wondered if my 2nd grade would enjoy reading these books that were considered "middle-aged".  When our package arrived, I took it out of the box and my 2nd grader started yelling, "Stick Cat, is that Stick Cat!"  I found out that her classroom has "Stick Cat: A Tail of Two Kitties" and she has started to read it but hadn't finished.  Now she is SUPER excited about the NEW Stick Cat book "Cats in the City"! Thank you to HarperCollins for providing me with copies of this book!

We took a look at both Olga and the Smelly Thing from Nowhere and Stick Cat and they both caught our attention!  My daughter spent sometime looking at the first book.  The next morning unannounced she woke up early and read the all of Olga and the Smelly Thing from Nowhere.  She told me that it was so funny and that she didn't want to put it down to stop reading!
I am so excited to also be having a giveaway and giving a prize pack to one lucky reader!  Be sure to enter the simple Rafflecopter for a chance to win!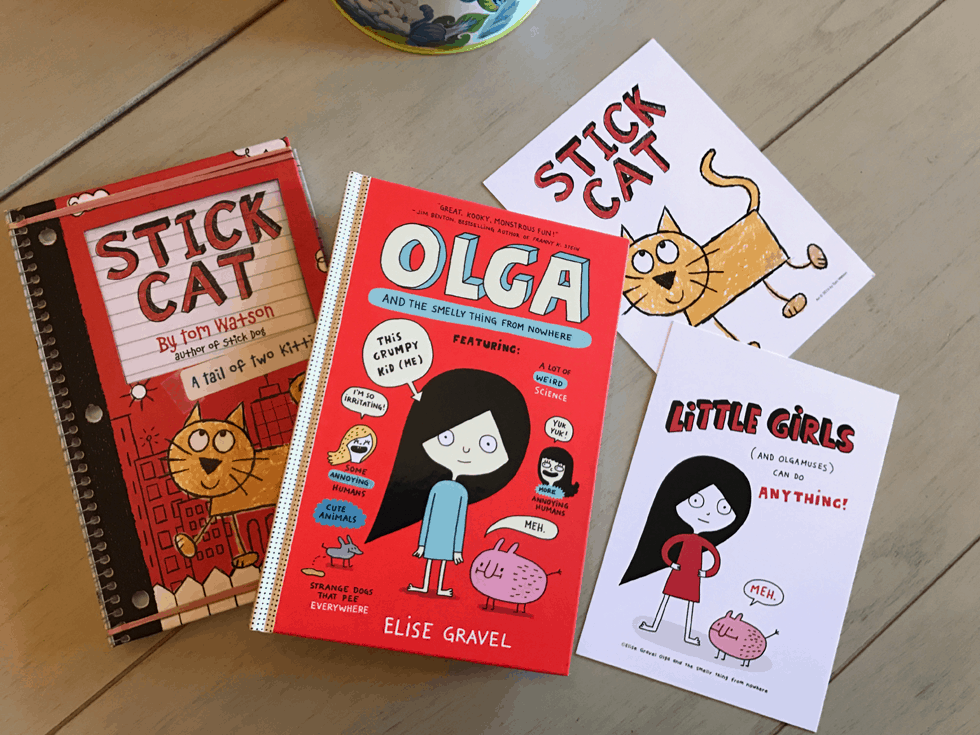 Olga and the Smelly Thing from Nowhere
By Elise Gravel
Release: March 14, 2017 – In Stores Now!
Olga finds a creature in her garbage can one day, and all it says is "MEH!"
It won't eat, it won't sleep, it snores, it stinks, and Olga studies it like mad. She adores it and eventually names it after herself–an OLGAMUS. A trip to the library reveals little, while a trip to the local shop proves successful when Olga discovers Meh's favorite food is olives!
Perfect for fans of Dear Dumb Diary and My Big Fat Zombie Goldfish, and great preparation for El Deafo, Roller Girl, and Smile.
By Tom Watson
Release: April 25, 2017
Perfect for fans of Diary of a Wimpy Kid, Big Nate, and animal lovers everywhere – meet Stick Cat!  A heavily illustrated young reader series, from the author of Stick Dog – Tom Watson!
In the first adventure (available now), it's a big day in the big city for Stick Cat and his best friend, Edith. There are treasures to hunt, songs to sing, pigeons to catch, and naps to take. But way up on the 23rd floor, danger lurks just around the corner. Terrible noises and violent crashes trap a desperate man in the building across the alley. Stick Cat will need to navigate his way across the alley—and around Edith's peculiar ways—to attempt a rescue.

LEARN MORE
Follow @HarperChildrens on Twitter & Instagram
Like HarperCollins Children's on Facebook
Prize Pack: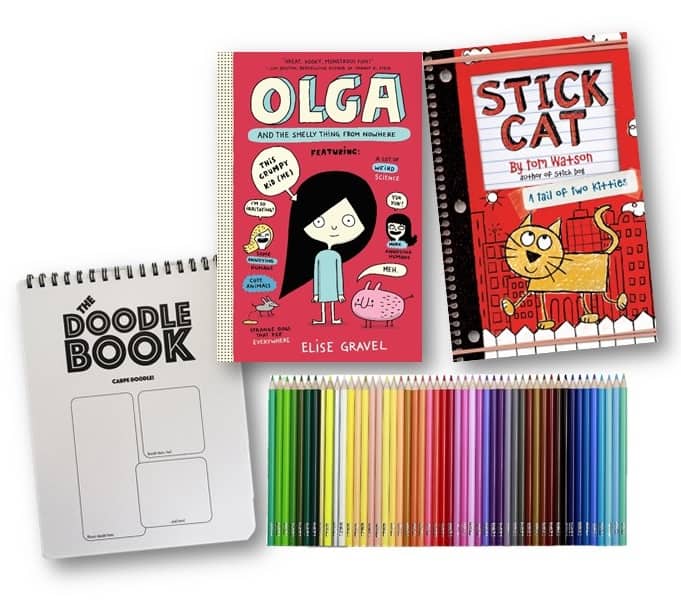 One prize winner receives:
Copies of Stick Cat and Olga and the Smelly Thing from Nowhere
Art prints from each book's creators
Plus notebook and colored pencil set.
a Rafflecopter giveaway