Chances are you stumbled across our list because you are looking for Hidden Figures Movie Quotes.  We LOVED Hidden Figures! Movie Myla just went to see it and wrote down all of her favorite quotes to share!  Be sure to also check out our movie review!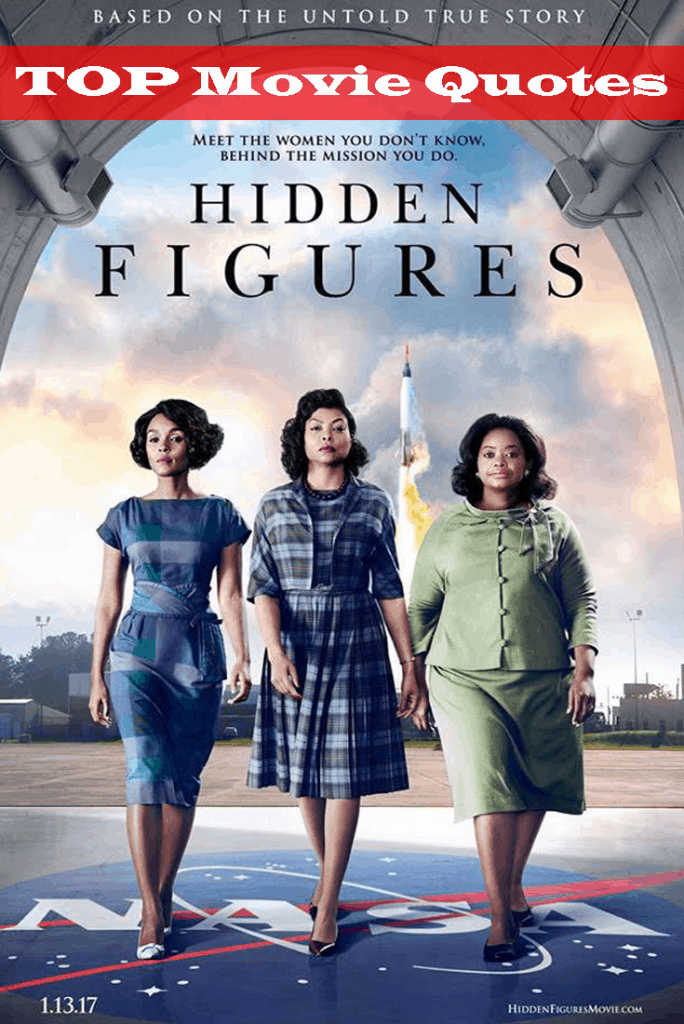 Hidden Figures Movie Quotes
"Once you do that, it's pretty straight forward."- a young Katherine explaining a difficult math problem
"You have to see what she becomes."- School Administrator speaking about Katherine
"We didn't pick the place, officer, it picked us."- Mary to a police officer
"There's quite a few WOMEN working in the space program"- Dorothy to the police officer
"Dear Lord, I don't even know where to begin."- Katherine
"Do your work. Keep your head down."- Ruth (Kimberly Quinn) to Katherine
"Let's have an amen, dammit!"- Al Harrison
"My numbers are spot on."- Paul Stafford
"Look beyond the numbers. Around them. Through them."- Al Harrison
"Any upward movement is movement for all."- Dorothy
"I sound like a supervisor, don't I?"- Dorothy
"A mean ol' salty one."- Mary
"You can't apply for freedom."- Levi
"Civil Rights isn't always civil."- Levi
"Mary, it's Sunday. Please have some shame."- Katherine
"I will not."- Mary
"And yes, they let women do things at NASA and not because we wear skirts, but because we wear glasses!"- Katherine to Col. Jim Johnson when he misspeaks
"I have rights to see fine in every color."- Mary admiring the future astronauts
"I looked beyond."- Katherine
"Are you a Russian spy?"- Al
"No sir. I'm not Russian."- Katherine
"I'm fine as I ever been."- Mary
"You drunk as you ever been."- Katherine
"Well, they beat the pants off us. Let's go."- John Glenn about the Russians
"There is no bathroom for me here."- Katherine reminding us of a shameful part of our history
"Here at NASA, we all pee the same color."- Al
"I can't change the color of my skin so I have no choice but to be the first."- Mary to a judge
"We'll get John Glenn home safely because we have to."- Al
"I'm just trying to be helpful."- Dorothy after being caught tinkering with the IBM computers
"There's no protocol for men circling the earth either, sir."- Katherine
"You are not going to let this go?"- Al
"No, I am not."- Katherine
"That's one hell of a speeding ticket."- John Glenn
"We all get to the peak together or we don't get there at all."- Al
"I don't see a colored section. Should I just take any seat?"- Mary to a confused teacher
"Math is always dependable."- Katherine
"For you it is."- Al
"I know you probably believe that."-Dorothy to Mrs. Mitchell
"She's more than something. She's everything."- Col. Jim Johnson about Katherine
"What the devil are you doing? Are you taking a break?"- Mary to Katherine at a critical moment
"Zero G and I feel fine!"- John Glenn
"Thank you for the information, Mrs. Mitchell."- Dorothy
"You're quite welcome, Mrs. Vaughan."- Mrs. Mitchell with begrudging respect
"Do you think we can get to the moon?"- Al
"We already there, sir."- Katherine
Hidden Figures is now playing in theaters!