If you landed on this post, you probably haven't or at least should have already seen the new Reese Witherspoon movie, Home Again! We compiled (with the help from our Movie writer, Myla) our list of favorite Home Again Quotes!  If you have one quote that you love and you know we missed, comment below so we can continue to grow our list!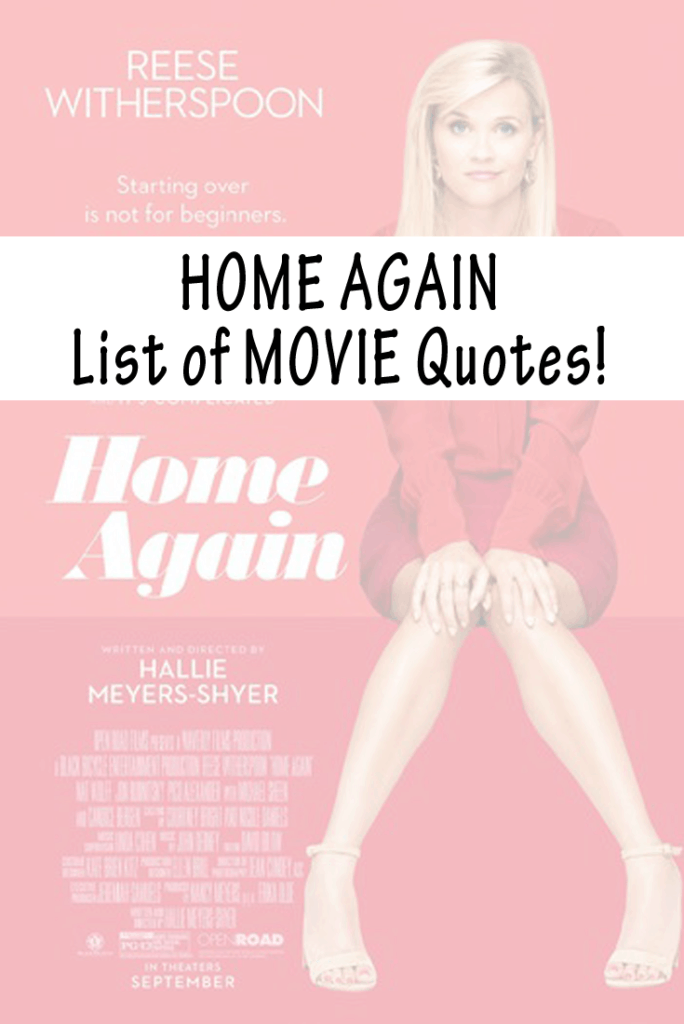 Home Again Quotes
"Get Ready, Alice. The future is yours."- Alice quoting her father
"Can't I just go on an anti-depressant like every other kid?"- Isabel
"I'm Harry. I'm definitely old enough to drink alcohol."- Harry introducing himself to Alice
"You're so maternal, Alice. You should be a mom."- Harry to Alice
"I used to throw up all the time when I was your age."- Alice to Harry
"Did you wash these?"- Harry holding up his clothes
"I did. Only because I did a load and I've been up since 5:30."- Alice
"Mom, you could have called first."- Alice
"Well, who knew you would have company at 7:30?"- Lillian
"You've got to stop blushing. Your face is too cute when you blush."- Harry to Alice
"I thought we agreed not to…"- Alice to an amorous Harry
"I know, but I fixed the cabinet."- Harry
"27-year-olds screw up. I know that because I used to be one."- Alice to Harry
"I told her it's like having an emotional support dog, but human."- Isabel to George
"I used to work for a developer. Basically we tore down things you loved and built things you hate."- Nate to Alice
"Oh my God, my arch-nemesis is here."- Alice
"Why do you have and arch-nemesis?"- Nate
"We done."- Alice
"Great. We done."- Zoey (Lake Bell)
"You're one of the good ones."- A drunk Alice to George
"Thank you, Alice."- George
"Like a woman."- Alice
This post may contain affiliate links.
Sign up with Dealflicks and purchase discounted tickets and sometimes concessions! You can also refer your family members and get more of a discount! Then use code RFGGTRFLUF at checkout for 20% off your first purchase!
HOME AGAIN stars Reese Witherspoon ("Big Little Lies," Wild, Walk The Line, Sweet Home Alabama) as Alice Kinney in a modern romantic comedy. Recently separated from her husband, (Michael Sheen), Alice decides to start over by moving back to her hometown of Los Angeles with her two young daughters. During a night out on her 40th birthday, Alice meets three aspiring filmmakers who happen to be in need of a place to live. Alice agrees to let the guys stay in her guest house temporarily, but the arrangement ends up unfolding in unexpected ways. Alice's unlikely new family and new romance comes to a crashing halt when her ex-husband shows up, suitcase in hand. HOME AGAIN is a story of love, friendship, and the families we create. And one very big life lesson: Starting over is not for beginners.