I have been waiting over a week to make this announcement to reveal a NEW Coupon App Called Ibotta! 
Ibotta is a FREE App that allows you to earn cash back! You will get real cash without having to jump through tons of hoops. Plus, the app is FUN!  You will earn $1 or more through product offer. They have a gallery of products.  You click on the products and it takes you to an engagement page that takes you to 3 tokens and each one has a questions to earn money back. I have seen this app in progress and it is SUPER EASY!
The picture below is a screen shot example for Mio Energy product.  The tasks will probably take you about 25 seconds to complete (that is faster than clipping a coupon, but I suggest you do both)!  The first $0.25 is reading a fact, the second $0.50 is watching a super short video, and the last one is taking a poll.  Super easy!  Click Click Click and SAVE!!!!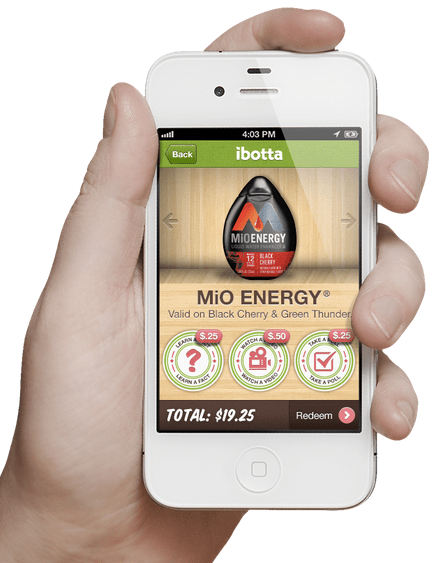 1.  You will be given a gallery of 20 products and each one has the ability to earn at least $1 of Cash Back.
2.  Click on the ones you like and each one will have 3 simple tasks (these are as easy as answering a poll) or watching a 15 second video.
3.  Go Shopping, Take a picture of your receipt from phone (takes seconds), get money (paypal or donate–you pick!)!!
It will be coming for iOS and Android SOON!!
You can use this when shopping at the big stores like Walmart, Target, & Walgreens!!!
Let me tell you why I am so excited about this!  Think of how awesome coupon match ups are going to be like with this app!  You will have something that looks like this:
Purchase Product X On Sale from Store X (example matchup)
–Use Manufacturer Coupon for $$$ off
–Use Store Coupon for $$$ off
PAY: Nothing + Get $1.50 back from Ibotta!  (This is REAL paypal cash!!!) 
Here is the deal!  As a blogger ambassador, if you sign up under my link you will be one of the FIRST user to be unlocked when the app goes LIVE in a few weeks!  They are taking sign ups now but you have to use the link coming from my page to be the first to be unlocked! <—Ibotta Invite Link Access to be the first set of users!
The Ibotta Guys LOVE Social Media!!! Be sure to stop by their facebook page and let them know Enza sent you!!!
Tweet them out because if it weren't for twitter we would have never met!!!
Disclaimer: This post is sponsored by Ibotta but this is my TRUE excitement for this new app!  If you have followed me for awhile you KNOW how much I love cash back sites when shopping online!!!