While in Hawaii for the Jumanji Welcome to the Jungle Press Junket, I had the opportunity to interview Jake Kasdan & Matt Tolmach. Director Jake Kasdan and Producer Matt Tolmach were wonderful to interview and get to know. Disclosure: My trip to Hawaii expenses were covered by Sony and all opinions and experiences are my own.
Both of them were really animated and so informative to interview. As they entered the room we applauded them for their success of the film. I have met with Jake Kasdan before and I know how good he is at directing humor but I was so intrigued to see how he liked directing a movie that had so much action in it as well!  During our interview we talked a little bit about casting but also about the filming, their inspiration, and some of the really strong themes of the movie that makes it not only hilarious but such a great movie to watch.
About Filming!
I learned that most of the movie was done in Hawaii or on set.  There was very little green screen involved in the filming.  This gave the movie and the actors an awesome sense of realness.  When asking about certain scenes of the movie this is what Jake and Matt shared:
Jake Kasdan: It's almost entirely real and the vast majority of the movie is real and really shot here in Hawaii at a few different places, a couple of different jungle locations that we used a bunch of different ways. Then some of the stuff that's completely impossible was on stage but not that much. If they're standing around in the jungle they're in the jungle.

Question: What about when they jump off the cliff?
Jake Kasdan: That was a collection in different places including some real waterfalls but none of it was on stage. There's a top location, there's a bottom location and then there's a middle location, believe it or not. It was one of those things we talked about for months beforehand.
Matt Tolmach: We had to find a waterfall that was high enough.
Jake Kasdan: We shot the top of the waterfall here, we shot the bottom of the waterfall in Hilo and it was our one day not on this island. The middle is mostly the one in in Hilo and then there's some stuff from another waterfall too.
About the story and their inspiration!
Matt Tolmach: I guess it started a few years back. I had always loved Jumanji, I loved the movie and I loved the book. I had a young son, we both have young kids and I had been reading the book to my son. He had a thing in his preschool and they asked parents to come in, choose a book and read it to the class and I read Jumanji.
I just thought my god and I sort of watched the reaction of the kids when I was reading it. It was wonder and this this incredible sort of fantasy and the reaction we all have to the notion of games. What if games could come to life?

Jake Kasdan: I came to it because Matt sent me the script that had Chris McKenna who's a really smart funny well-known hilarious guy who's worked on a bunch of really funny shows and stuff. I actually had this idea which is that you could invert the game, go into the world and that the way to update it would be to take it a long way away from the original movie that we all love so that we're not just doing what they did again. Which is sort of that we feel like the mistake that people make sometimes is like take something that everybody loves and then do a lesser new version. We didn't want to do that. We loved the original movie, it has its own sort of magnitude and resonance for people. What Robin did in that movie is so important to so many people and we wanted to kind of like honor that but do something completely different so that we wouldn't be retreading the same ground.
About some of the Themes of the Movie!
Question: There is a very clear message of self-sacrifice throughout the movie, giving your life to others. When you all were developing that idea was it meant to just be an undertone or did you want it to be a central theme of the movie, self-sacrifice for others?
Jake Kasdan: I connected deeply to that idea which is how would you live if you thought you didn't have anything to be afraid of and how is that different from how you live anyway? How do you close the gap between those things? For teenagers I think fear is one of the dominant things driving you. What are you afraid of can be all different things, sometimes not the right things. I thought that was a huge opportunity and I love that part of it.

Matt Tolmach: There's also a theme and Jake talks about this a lot, simply friendship. It's about a group of people who aren't particularly friends in the beginning in the movie but they come to trust each other and rely on each other. Sacrifice is one of the gestures that sometimes defines our friendship for one another.
Jumanji: Welcome to the Jungle will be in theaters December 20, 2017!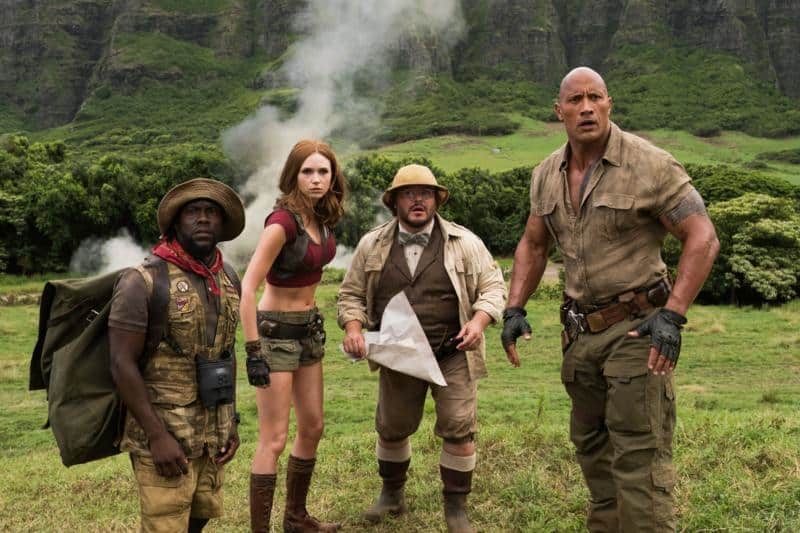 In the brand new adventure Jumanji: Welcome to the Jungle, the tables are turned as four teenagers in detention are sucked into the world of Jumanji. When they discover an old video game console with a game they've never heard of, they are immediately thrust into the game's jungle setting, into the bodies of their avatars, played by Dwayne Johnson, Jack Black, Kevin Hart, and Karen Gillan. What they discover is that you don't just play Jumanji – Jumanji plays you. They'll have to go on the most dangerous adventure of their lives, or they'll be stuck in the game forever…
Affiliate Links:
Purchase tickets for "Jumanji: Welcome to the Jungle" today from
Fandango
or save money using Dealflicks!
Purchase discounted tickets by using Dealflicks.com! Feel free to save an additional 20% by using the code RFGGTRFLUF at checkout!