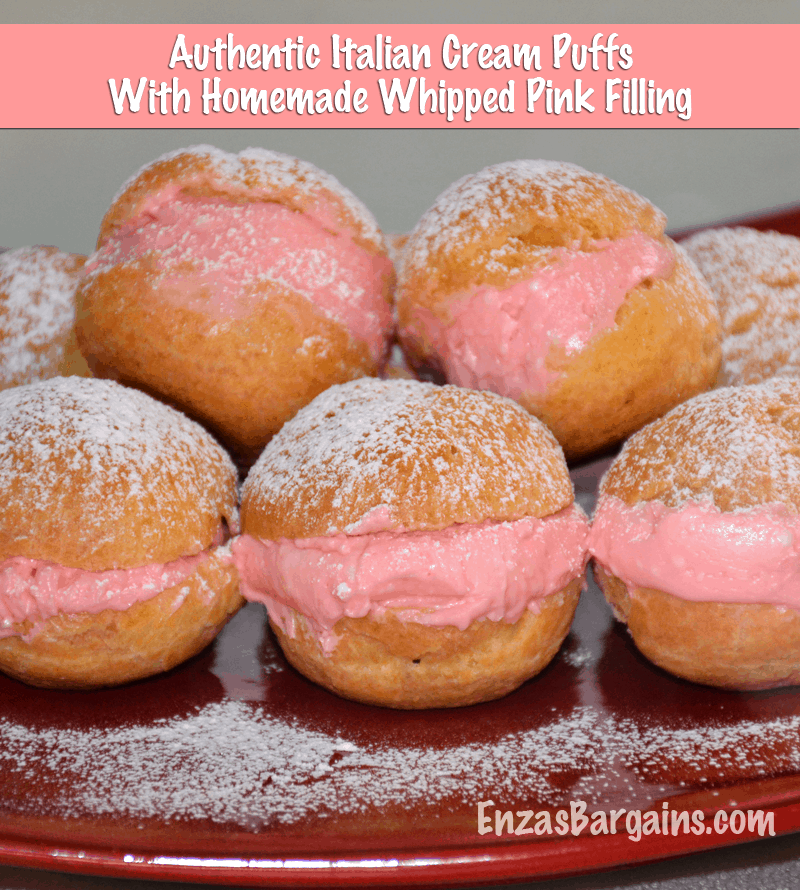 I have tried a lot of Italian Cream Puffs in my day and these by far are some of the most delicious ones. This Italian Cream Puff recipe is my mom's who is from Italy. We also have the recipe for Italian Cream Puffs that are filled with Custard! Those are really delicious as well. What I like most about this recipe I am sharing is that you can die the filling any color AND they last longer. The Italian Cream Puffs that have the custard filling are really good but the pastry puff can get a little soggy once it is refrigerated. This whipped powdered sugar icing filling is GREAT to fill up your cream puffs and it is ALSO wonderful to use on other pastries and EVEN better as icing on a cake! Be sure to follow the steps and I promise that you will not be disappointed!
Italian Cream Puffs Recipe Pastry:
Ingredients: 2 Cups of Water, 2 Cups of Flower, 8 Eggs, 2 sticks of Margarine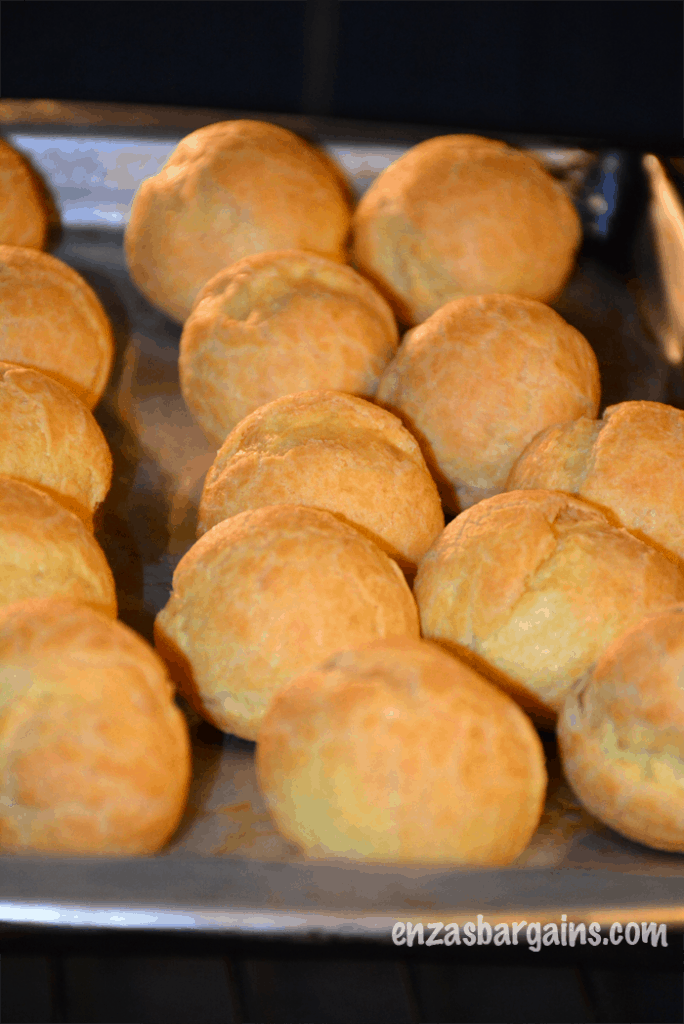 1. Boil the water with the butter. Once it boils add the flour. Stir it until it becomes really thick and sticky dough.
2. Take it out off the fire and add one egg at a time mixing it in rapidly. As you mix them in you want the dough to be the same consistency as the other ones.


3. Preheat oven to 400 degrees.
4. Spray your cookie sheet with Pam spray.
5. Take a small ice cream scoop and scoop them on two baking dishes. We made 38 of them. After you even them all out, roll them up as if you would with cookies.
6. Right when you place Cream Puffs in the oven drop the temperature to ONLY 375 degrees. Use the middle rack. Then after 10 minutes lower it again to 350. Let them back for a total of 1 hour or when the top is no longer have liquid coming out of it. Check them half way through, and if the tops start to crack or the bottoms start turning a bit brown it is time to move them to the top rack in the oven. We use silver baking pans so if you are using dark pans you might want to start it at 375 instead of 400.
Italian Cream Puffs Homemade Whipped Filling (add any color you want or keep it white):
Ingredients: Three Sticks of Butter (NOT MARGARINE), 1 ½ Cup of Crisco Shortening, 4 ½ cups of powdered sugar, 3 tsp of Vanilla Extract, 3 egg white, 6 tbs of milk, food coloring for your desire.

1. First start with the egg whites and make it really fluffy with your electric mixer.
2. Then add the rest of your ingredients and mix them all up.
3. Last add your food coloring!
Okay so now you have the Pastry and the delicious filling! I not not kidding it is SO good!
Cut the Italian cream puffs half way leaving them attached together once they have cooled.  There will be fluff inside and it is easy to scoop the cream in the "puff" part.
Once you have filled them place them on a serving dish, most of the time I like using cupcake liners, and sprinkle with powdered sugar right before serving!
Check out these recommended posts:
[catlist id=179 thumbnail=yes numberposts=6 template=enza]