Hey guys! Remember when I got to go to Hawaii last week to interview the cast and explore the jungle in Hawaii?! I DO! Well, I can't wait for all you to see this movie! Bring your tissues from spitting out your soda laughing so hard during the movie. I am so excited about the Jumanji Amazon Prime Early Showing! (Disclosure: This post contains affiliate links.)
If you are a prime member they are having early showings THIS week, Friday, December 8th at 7pm! Just pick your theater where you want to see the movie! Purchase your tickets today!
Don't forget to check out what I got to do at the press junket in Hawaii (posts coming soon)!
Jumanji: Welcome to the Jungle will be in theaters December 20, 2017!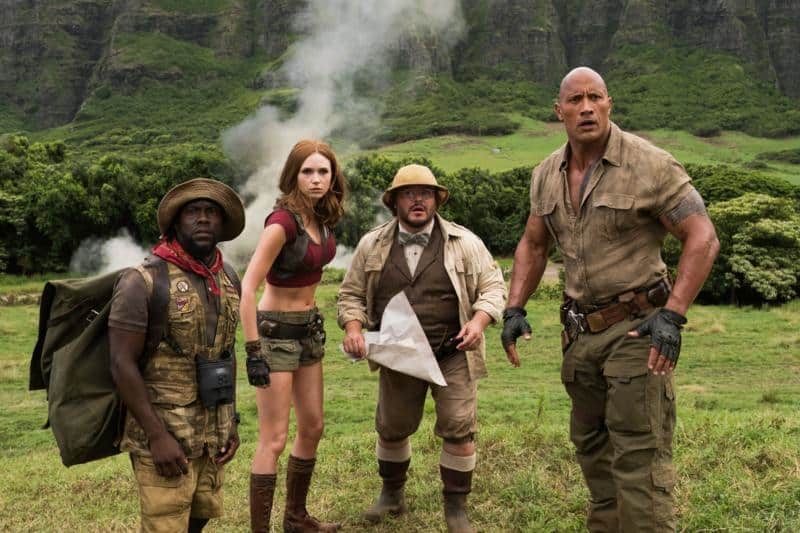 In the brand new adventure Jumanji: Welcome to the Jungle, the tables are turned as four teenagers in detention are sucked into the world of Jumanji. When they discover an old video game console with a game they've never heard of, they are immediately thrust into the game's jungle setting, into the bodies of their avatars, played by Dwayne Johnson, Jack Black, Kevin Hart, and Karen Gillan. What they discover is that you don't just play Jumanji – Jumanji plays you. They'll have to go on the most dangerous adventure of their lives, or they'll be stuck in the game forever…
Affiliate Links:
 Purchase tickets for "Jumanji: Welcome to the Jungle" today from 
Fandango
 or save money using Dealflicks!
Do you want to go during opening weekend instead? Purchase discounted tickets by using Dealflicks.com! Feel free to save an additional 20% by using the code RFGGTRFLUF at checkout!