I am so excited to have Jumanji: Welcome to the Jungle Kansas City Advanced Screening tickets for some of our amazing readers! That is all of you! Who is ready to see the movie before it comes out?! I have seen it and it is so funny!
Jumanji: Welcome to the Jungle Kansas City Advanced Screening
If for some reason you are unable to attend the screening and you have signed up. Please go back to the Sony site and release your tickets for those readers on our waiting list. You are not to trade or barter these tickets to others in private groups or for other studio tickets. These tickets are complimentary and don't hold any value. Thank you for your understanding and playing fair. 🙂
Where: Cinemark 20 Merriam
When: Monday, Dec 18
Time: 7:00 PM
Download Tickets: HERE!
*Did you get emailed before this post went live?  If not, you might not be on our exclusive email list.**
We had to start our e-mail list over from scratch.  Be sure you have subscribed again (if you were already on it).
If you are in KC and want me to e-mail you free movie passes, giveaways, and information on local entertainment please be sure to subscribe to my **NEW** e-mail!  Those who have subscribed get first dibs usually on tickets and giveaways! Subscribe HERE.  Now since you have subscribed, be sure to fill out the form for your official entry!
Jumanji: Welcome to the Jungle will be in theaters December 20, 2017!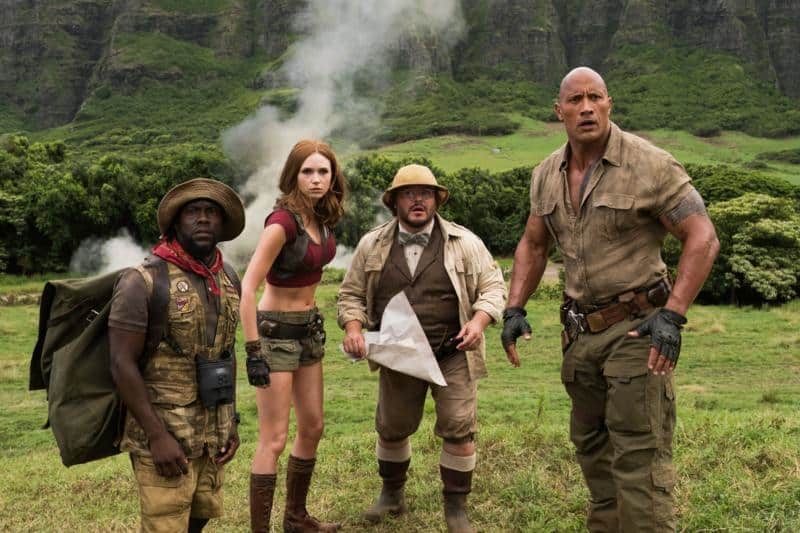 In the brand new adventure Jumanji: Welcome to the Jungle, the tables are turned as four teenagers in detention are sucked into the world of Jumanji. When they discover an old video game console with a game they've never heard of, they are immediately thrust into the game's jungle setting, into the bodies of their avatars, played by Dwayne Johnson, Jack Black, Kevin Hart, and Karen Gillan. What they discover is that you don't just play Jumanji – Jumanji plays you. They'll have to go on the most dangerous adventure of their lives, or they'll be stuck in the game forever…
Affiliate Links:
Purchase tickets for "Jumanji: Welcome to the Jungle" today from
Fandango
or save money using Dealflicks!
Purchase discounted tickets by using Dealflicks.com! Feel free to save an additional 20% by using the code RFGGTRFLUF at checkout!