It is a surreal experience to be on set of LAIKA and to sit and interview Travis Knight and Arianne Sutner with a handful of other bloggers and media outlets. Travis Knight is the Director of Kubo and the Two Strings, the CEO of LAIKA, and also an Animator! He is so passionate about what he does and that is why he does it!


LAIKA is a movie studio in Portland that creates stop-motion movies. So far they have created Caroline, ParaNorman, Coraline, Box Trolls, and now Kubo and the Two Strings! Stop-motion is the art of staging actual puppets and photographing the puppet on the stage frame by frame (20 pictures per second) to create a natural and believable movement.
Arianne Sutner is the Producer and Head of Production for Kubo and the Two Strings. Her and Travis work really closely together. We met with her alone prior to screening parts of the movie to set up our LAIKA tour and then we met with her and Travis for a small group interview!
When interviewing ANYONE who worked on this film, the passion in his or her voice for not only the story of the film but for the art of creating it is amazing.

Travis talked about how this movie is something that has never been done in Stop Motion before!  "We want our films to look and feel different from each other…With Kubo it was a really cool opportunity for up to take on a big fantasy epic. Which has never really been done on stop-motion before."
They also talked about how much preparation goes into it because they can't have an animator work a week on a film and NOT use the work he was working on in the film.  It is important that everything including the cameral angles is totally thought out in the process.
Preventing drift in animation: Their visual effects team is the exact same with the movie they did a few years ago. They talked about how they can keep a small cast of employees and still grow.  Arianne talked about how if they grow too much that they lose the style of the movie becuase of how long it takes to create it.
About voice actors.  Summary of Travis Knight's explanation: "It is the same process. They go in and adlib and before you can do a performance you have to have the voice first.  So while we are writing and storyboarding we start thinking of casting. So before we create a frame of film we already have the main cast."  Arianne explained how the kid actors voices change in the process of a couple of years. So they try to get all of the vocals up front with the kids as their voice changes.
There were some fun facts that we learned!  We heard that Matthew McConaughey loved to ad-lib and read the script to his kids as a bedtime story! They weren't able to use a lot of ad-libs or the movie would have taken decades to create. 🙂
The characters: Although they had the creators done before casting they didn't take their characteristics and add them into the characters, but they do use their animation and movements that they might act out while voice acting.
I asked what are the main themes of the movie.  We learned it was about a boy and his mom.  It is about life and going through their experience!  "It is an intimate story about human relationships."  He explains it is about him and his mom. Arianne it is like her and her kids.  "It is about that point in time when you are straddling childhood and adulthood."  He talks about what is the cost about growing up and at the end it is about a boy and his mom!
About Kubo and the Two Strings in theaters August 19, 2016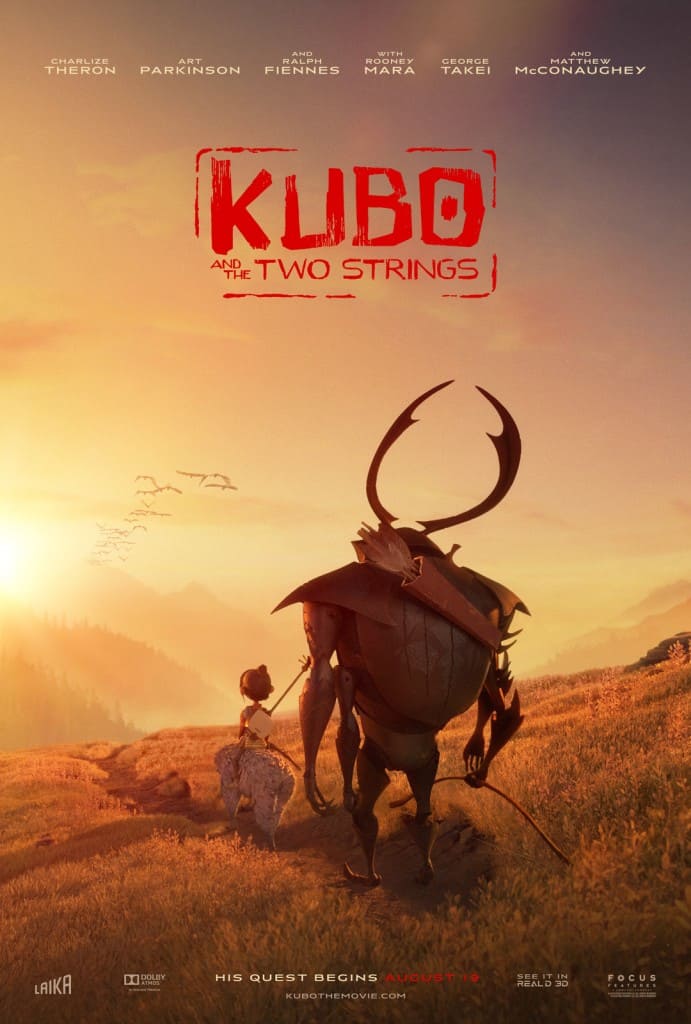 Kubo and the Two Strings is an epic action-adventure set in a fantastical Japan from acclaimed animation studio LAIKA. Clever, kindhearted Kubo (voiced by Art Parkinson of "Game of Thrones") ekes out a humble living, telling stories to the people of his seaside town including Hosato (George Takei), Akihiro (Cary-Hiroyuki Tagawa), and Kameyo (Academy Award nominee Brenda Vaccaro). But his relatively quiet existence is shattered when he accidentally summons a spirit from his past which storms down from the heavens to enforce an age-old vendetta. Now on the run, Kubo joins forces with Monkey (Academy Award winner Charlize Theron) and Beetle (Academy Award winner Matthew McConaughey), and sets out on a thrilling quest to save his family and solve the mystery of his fallen father, the greatest samurai warrior the world has ever known. With the help of his shamisen – a magical musical instrument – Kubo must battle gods and monsters, including the vengeful Moon King (Academy Award nominee Ralph Fiennes) and the evil twin Sisters (Academy Award nominee Rooney Mara), to unlock the secret of his legacy, reunite his family, and fulfill his heroic destiny.

Director: Travis Knight
Writers: Marc Haimes and Chris Butler ("ParaNorman")
Voice Cast: Art Parkinson, Charlize Theron, Ralph Fiennes, Rooney Mara, George Takei, Cary-Hiroyuki Tagawa, Brenda Vaccaro, and Matthew McConaughey
Watch the newest trailer below:
Read more Kubo stories on the blog soon!