I was provided an expense paid trip to visit the set of Kubo and the Two Strings! It had been two years since I had been there and I am amazed with the LAIKA'S New Technology! All opinions are my own!
LAIKA'S New Technology

So imagine taking the art of plays, shows, and the technology of photo editing and CG and mixing it all together in a strategic way. Then imagine on the way being innovative and creating technology that has NEVER been done before on an industry that is sometimes lost in the entertainment world because of what seems to be the limitations that the arts create. Not just any technology, but Oscar winning technology! Now imagine, forgetting about all those limits and becoming a problem solver. That is LAIKA! I wish everyone in the world could have the amazing experience of going on a LAIKA tour. Since it isn't possible I want to be able to be as detailed as possible so you can experience it through my eyes!
When some people think of stop-motion films the last thing they think of is technology. They think of the actual opposite. Someone moving puppets frame-by-frame and taking pictures. It is NOT just that! I am mind blown by the technology when I visit LAIKA! This is coming from a blogger who has visited sets and studios! What you don't know about me is that I use to be a drama nerd too.
Before I tell you about all of the different technologies I learned about, I have to thank my friends at Focus Features and LAIKA for making this set visit possible. I can't begin to thank you enough! I met with several of the masterminds behind the creation of the movie. I wanted to share some of the stuff I learned from two individual folks. One gentleman is Steve Emerson. Steve is the VFX Supervisor at LAIKA. The other person we met with later was Phil Brotherton who is the Assistant Art Director. He was full of useful information when it came to technologies that LAIKA have used and have developed!
There is a form of technology that goes in the CGI aspect of movies. There were so many characters and crowds that it wouldn't be possible to create. I learned that although some of the characters and continuations of landscapes had to be done in CGI that they always referenced REAL actual puppets side by side to not lose the part. So a few of the extras were done in CGI and added into the stop-motion of the main and secondary characters. Steve mentioned that they like to "embrace tech that is respectful to stop-motion.
When we met with Phil he had some great tidbits of amazing information!
LAIKA won a technical Oscar for being the first and only to now print characters using PLASTIC 3D printing! One character in particular was done ONLY on a 3D printer.
The faces of the characters are done in two pieces on 3D printing so animators can mix and match and map out the facial expressions throughout the process. They actually have 4 "face librarians". With the 3D printers being popular, technology and the use of spreadsheets to keep track of the combinations is also important! Kubo had 48 MILLION possible facial combinations that animators can use! Phil told us it was a running joke with directors when they struggled to find what they were looking for, "you have 48 million possible faces and you can't find ONE!"
Advancement in technology is pretty cool. Caroline was done on a white resin type material and had to be hand painted. Paranorman was the first time they used colored printers to create their puppets. NOW, they are using them as mass production tools!
This isn't even covering the technology that goes into the cameras, lights, stages, engineering, and MORE!
I learned on my set visit that the budgets of LAIKA films are so much smaller than other studios. Keep in mind it takes YEARS to create a film. My prediction, (since I know LAIKA is working on a new space) is that films will start to be produced much faster. When I hear phrases like "new technology" and "mass production", plus meet the masterminds behind creating the movie and the passion from Travis Knight…it wouldn't surprise me if they advance while keeping the small studio environment in more productions.
About Kubo and the Two Strings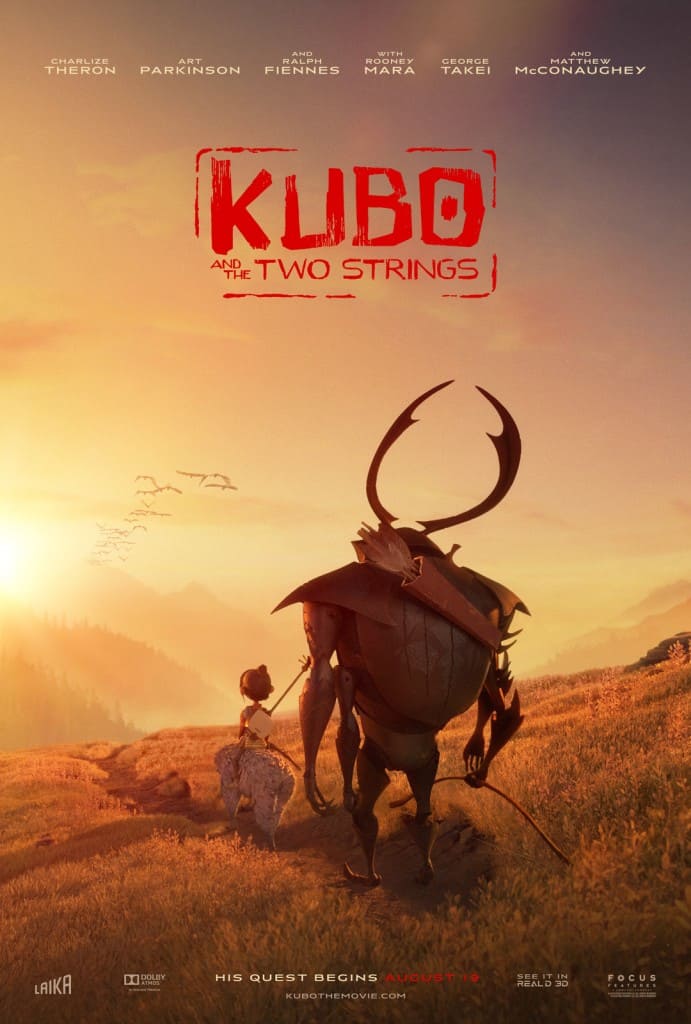 Kubo and the Two Strings is an epic action-adventure set in a fantastical Japan from acclaimed animation studio LAIKA. Clever, kindhearted Kubo (voiced by Art Parkinson of "Game of Thrones") ekes out a humble living, telling stories to the people of his seaside town including Hosato (George Takei), Akihiro (Cary-Hiroyuki Tagawa), and Kameyo (Academy Award nominee Brenda Vaccaro). But his relatively quiet existence is shattered when he accidentally summons a spirit from his past which storms down from the heavens to enforce an age-old vendetta. Now on the run, Kubo joins forces with Monkey (Academy Award winner Charlize Theron) and Beetle (Academy Award winner Matthew McConaughey), and sets out on a thrilling quest to save his family and solve the mystery of his fallen father, the greatest samurai warrior the world has ever known. With the help of his shamisen – a magical musical instrument – Kubo must battle gods and monsters, including the vengeful Moon King (Academy Award nominee Ralph Fiennes) and the evil twin Sisters (Academy Award nominee Rooney Mara), to unlock the secret of his legacy, reunite his family, and fulfill his heroic destiny.

Director: Travis Knight
Writers: Marc Haimes and Chris Butler ("ParaNorman")
Voice Cast: Art Parkinson, Charlize Theron, Ralph Fiennes, Rooney Mara, George Takei, Cary-Hiroyuki Tagawa, Brenda Vaccaro, and Matthew McConaughey
Watch the newest trailer below:
Read more Kubo stories on the blog soon!