Disclaimer: Sponsored Giveaway, Post, and Affiliate links.  Looking where to find the Lavender Pillow from Mattress Firm and how it performs? I will share my experience with all of you!
Lux Living Lavender Bliss Pillow
A couple of years ago I did a review and a giveaway for the Lux Living Lavender Bliss Pillow! I received two pillows the Lavender and the Coconut Bliss pillow.  I have been using these two pillows every since I got them. I have tried to use other pillows but I find that these are the most comfortable.
My husband tried to buy me a new pillow and instead he opted out and bought him self this super thin balance pillow. It isn't enough neck support for what I need.  I like for my neck to not feel scrunched when I sleep on my side.  I think that this Lux Living pillow is the best for side sleepers for sure!  If I were one who liked to sleep on my belly, I would probably avoid sleeping with this pillow!
We promoted the Lux Living Lavender Bliss Pillow giveaway!  Just LIKE Inside Out features some popular human emotions, sleeping can cause someone to also feel emotional!
There are many nights that I have trouble falling asleep. When this happens I try a bunch of different techniques like counting sheep, tossing and turning, and even turning on the TV to something I have already seen before. I sometimes try to get up to eat another snack but then those extra calories give me a feeling of DISGUST. I will just keep lying down and my brain will start wondering and at times I feel SAD. The last thing that I want to do is fall asleep with a lot on my mind, then have a bad dream making me feel FEAR. The worst is when you fall asleep and your hubby starts snoring, although it isn't his fault I definitely feel the ANGER brewing up because I wish I was asleep! The new Mattress Firm Sleep Emotions Giveaway could help me sleep better and allow JOY to take over my life.
So if that sounds like one of your many nights of trying to fall asleep, you know that getting a good night of rest is important. I was able to find a connection of feeling depressed with lack of sleep. I noticed that the more sleep I got, the less depressed and more JOY that I would feel. I found this out after giving birth to my second baby and trying to figure out why SADNESS had taken over.
The Lux Living Lavender Bliss pillow features premium memory foam blended with natural lavender oil; this combination creates a supportive, plush feeling pillow with the natural benefits of Lavender oil. Lavender has been used for centuries as a sleep aid and has been shown to promote relaxation and sleep quality. This pillow also features ventilated channel technology to ensure maximum breathability, and is molded not to ensure consistency and durability. You can sleep easy knowing that this pillow comes with a 5 year warranty, ensuring peace of mind for years to come. Retail Value $129.00.
UPDATE: Where to FIND a Lavender Foam Pillow:
Now Mattress Firm no longer sells this particular pillow! We found the Lux Living sells them directly on Amazon and now they are less than $70 which is a steal for a good pillow!  Purchase the Lux Living Lavender Bliss pillow on Amazon today.
The next closest pillow that we found was the Perfect Cloud Lavender Bliss Memory Foam Pillow which is $64.99 and also has some great reviews!
I did a giveaway a few years ago (6.25.15):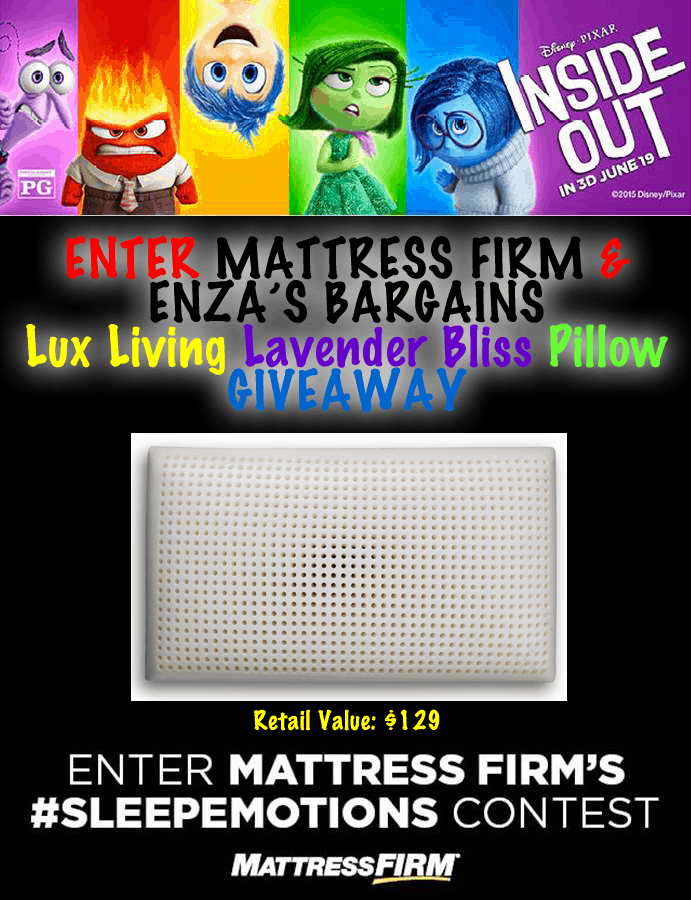 Enza's Giveaway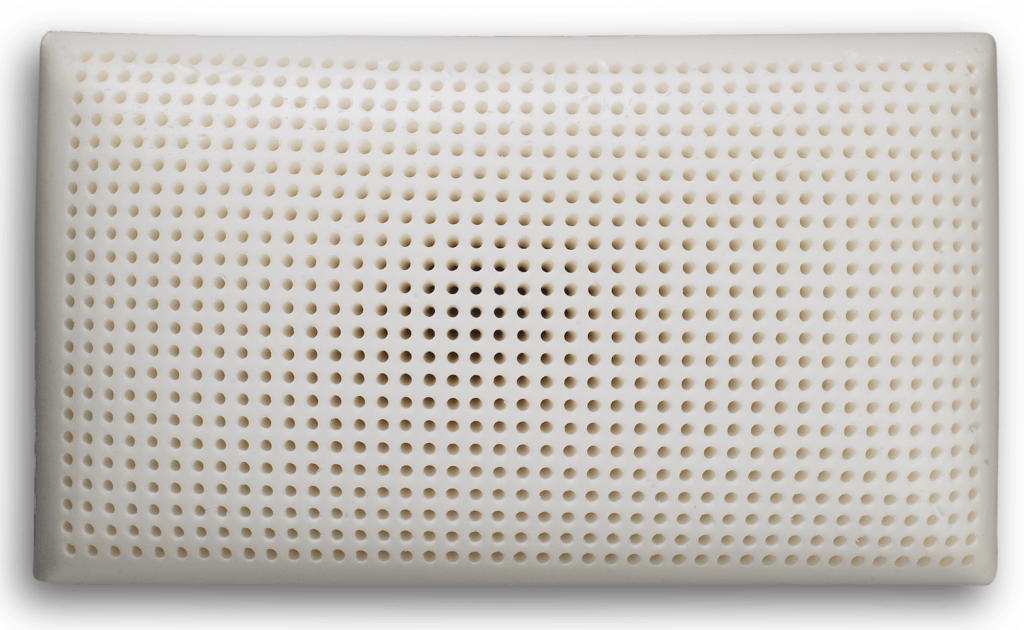 Mattress Firm is giving ONE lucky Enza's Bargain's reader a Lux Living Lavender Bliss Pillow!
PRIZE:
The Lux Living Lavender Bliss
TO ENTER fill out this form below!
ANOTHER HUGE GIVEAWAY!!
Mattress Firm knows that sleeping and emotions are greatly tied together. So they are giving you a chance to WIN $5,000, a new Beautyrest queen mattress set, and several other pillow prizes to help you sleep better all year round.
First Snap your sleepy selfie. Take a picture of yourself telling Mattress Firm how sleep makes you feel based on the corresponding emotion in each entry period.
Entry ANGER: 6/19/15 (12 am CST) – 7/1/15 (11:59:59 pm CST)
Entry JOY: 7/2/15 (12 am CST) – 7/21/15 (11:59:59 pm CST)
Visit Mattress Firm's Instagram and Twitter and share using #SleepEmotions, or their Facebook page here you can upload your photo in their giveaway tab.
In 24 hours your entry will be approved and they will send you a link to SHARE! Use that link and accumulate votes and get closer to winning the GRAND PRIZE!