Are you excited for the new LEGO® NINJAGO® movie! We are so excited to see it! It looks funny and entertaining, plus it has a kitty cat in it! Watch the on the bottom of this post. We are happy to invite you to attend an early screening to the movie!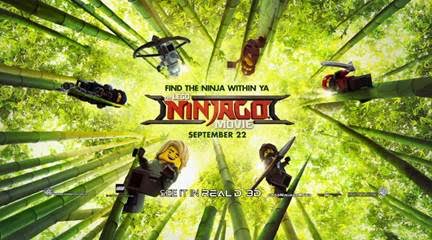 Our family loves playing with LEGO bricks and we love going to the movies! These movies are always so creative with an amazing storyline that also encourage play and imagination! I haven't seen the movie yet, but I plan to join you for this advanced screening!
JOIN US:
SATURDAY, SEPTEMBER 16TH
AMC STUDIO 28
10:00AM
We have 5 family 4 packs and it is a first come and first serve basis! PLEASE make sure you are able to attend the screening before signing up for tickets! The link and the code can be found below!
LEGO, the LEGO logo, NINJAGO, the minifigure and the brick and knob configuration are trademarks of The LEGO Group. ©2017 The LEGO Group. Used with permission. All rights reserved.
A new animated adventure in Warner Bros. Pictures' LEGO® franchise, "The LEGO NINJAGO® Movie" stars Dave Franco, Justin Theroux, Fred Armisen, Abbi Jacobson, Olivia Munn, Kumail Nanjiani, Michael Peña, Zach Woods, and the legendary Jackie Chan. In this big-screen NINJAGO adventure, the battle for NINJAGO City calls to action young Master Builder Lloyd, aka the Green Ninja, along with his friends, who are all secret ninja warriors. Led by Master Wu, as wise-cracking as he is wise, they must defeat evil warlord Garmadon, The Worst Guy Ever, who also happens to be Lloyd's dad. Pitting mech against mech and father against son, the epic showdown will test this fierce but undisciplined team of modern-day ninjas, who must learn to check their egos and pull together to unleash their inner power.
WEBSITE: www.LEGONINJAGOMovie.com
RATING: PG for "some mild action and rude humor."
Click HERE for the link and code to this Advanced Screening!: