Life of the Party
Review by Myla Tosatto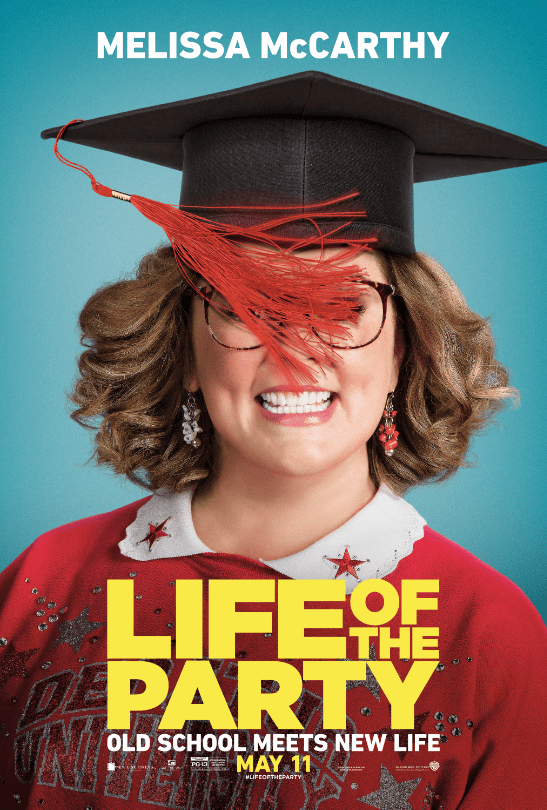 Just in time for Mothers' Day (and graduations), Melissa McCarthy delivers her newest film, Life of the Party. It's like she and director/husband Ben Falcone have given us all a Hallmark card (a funny one, not a sappy one).  This post contains affiliate links.
Paying homage to House Bunny, Back to School, and yes, even Animal House, Life of the Party delivers laughs a plenty. It's the story of a jilted housewife (McCarthy) who goes back to her alma mater (and her daughter's current university) to finish the one year she needs to graduate. Along the way, we get frat parties, sorority bonding, makeovers and awkward class presentations.
After you take your mom or the mom-like folks in your life out for brunch, swing by the cinema to see this one. You will laugh your eggs benedicts off and have a heck of a time! Also, it would be a fun movie to take your graduating senior to (both high school or college). Actually, I can't imagine too many people who wouldn't love to laugh for two hours!
It is rated PG-13 for some language and adult situations, I assume. You might want to leave the littles at home, but older kids will be just fine.
Also- I know a lot of you have been missing McCarthy's Sookie St. James from the popular TV show, Gilmore Girls. This may be the closest to her character moving out of Stars Hollow, divorcing Jackson and following Martha to school. Not a bad pitch for a movie, eh?
" target="_blank" rel="nofollow">Life of the Party is NOW playing in theaters! Get your tickets!