I am so grateful for our newest giveaway! This one is brought to us by our friends from Disney! They provided my family and I an awesome prize pack that includes the newest DVD of Lion Guard Life of the Pride Lands! My girls LOVE Lion Guard! When we went to Animal Kingdom last, that was all they wanted to do was find all of the Lion Guard characters! Being able to have them watch and enjoy a GOOD Disney show makes me happy! When it comes to Disney, I feel like I can trust all of the shows that they put out. They always have a positive message! I even find myself still watching the show, once they have gone to bed! So check out our video below and be sure to enter our amazing prize pack! We created this video for you several days ago. My girls are in the video with me, so be sure to give us a THUMBS UP! 🙂

Rough, tough and roarin' to go, your favorite heroes are back for more epic adventures in The Lion Guard, the animated series that continues the storytelling of Disney's The Lion King.

Join Kion and his diverse group of friends as they celebrate unity within the Circle of Life and protect the Pride Lands in five action-packed episodes also featuring Simba, the spirit of Mufasa and the hilarious antics of Timon and Pumbaa. You'll go wild for all the ferocious fun, because whether the Lion Guard team is tracking a rogue leopard, foiling tricky jackals or facing stubborn crocodiles, Life In The Pride Lands is always "hevi kabisa" – totally intense!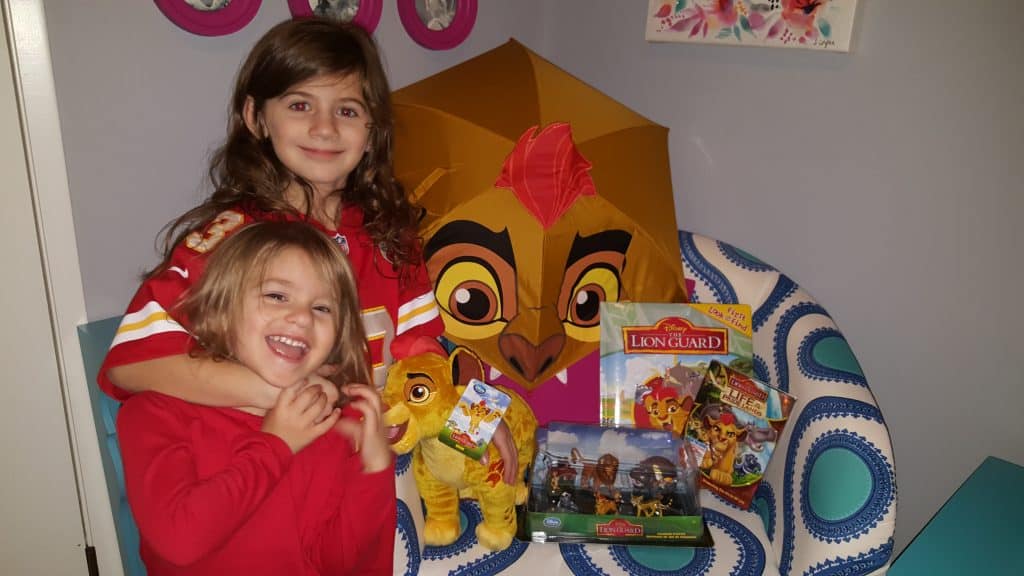 Lion Guard Life of the Pride Lands Giveaway
We are giving away some awesome Lion Guard prizes!  You can win a prize pack that includes a Kion Plush valued at $19.95, Kion Umbrella valued at $12.95, a Lion Guard First Look Book ($8.95), and a Lion Guard Play Set valued at $14.95! This prize pack is valued at over $55 ARV! Be sure to enter the rafflecopter form below!