There isn't a girl in the world who doesn't like getting pampered. Luxe by Mr. Bubbles makes it feel like you are going to the spa without ever leaving your house! Product was sent to us for free in exchange for our promotion.  This post might also contain affiliate links which may earn us a small percentage to help cover our expenses if you choose to make a purchase.

Luxe by Mr. Bubble Milk & Cookies Tub Time Retreat Gift Set will make a great gift for anyone who is always looking for ways to get softer and smoother skin. Nothing is like relaxing in a nourishing milk bubble bath made with Shea and Vitamin E and you can add a double dose of hydration with two butter cookie bath melts. It is enriched with nourishing Cocoa and Shea Butter, the decadent bath treats slowly melts around you, leaving your mind relaxed and your skin irresistibly soft.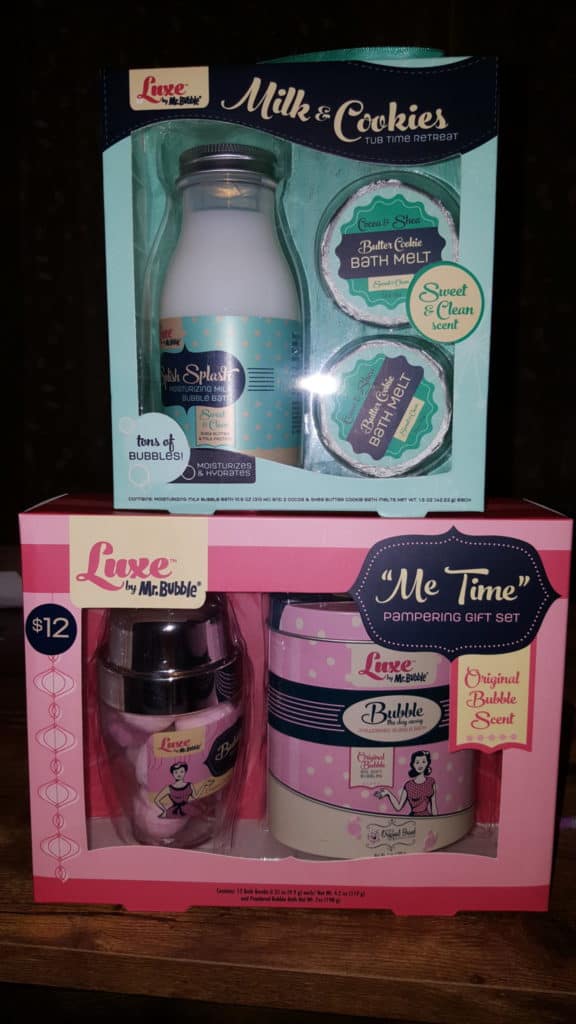 If bubbles get you thinking about rest and relaxation, check out the exclusive Luxe by Mr. Bubble Me Time Gift Set Duo. This limited edition set includes indulgent Bubbletini Bath Bombs in a functioning martini shaker and luxurious powdered bubble bath in a reusable retro tin. It's like four gifts in one!  
If these gifts sound like they would be perfect for someone on your list (or if you want to buy one for yourself) than you can find more information about these bath sets and where to buy them by visiting Ulta here.
I found the set at Ulta here so check it out today!
Be sure to check out the UPDATED Holiday Gift Guide Items this year for 2017!

[catlist id=225 thumbnail=yes numberposts=50 template=enza]