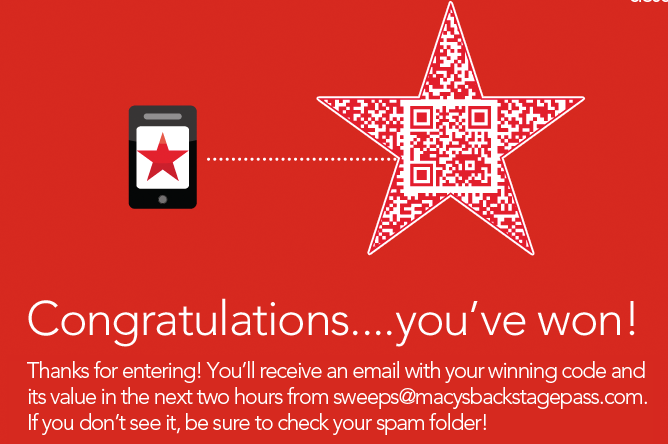 I played the other night and didn't win!  Then when I played again and I won $10 to Macy's!!!  I wasn't sure if I was going to share it with you!  BUT I got the information in my inbox already on how to redeem my $10!!!!
I thought you had to have a QR reader to play but you don't!!!!  Here is how to get your FREE ENTRY!!!
Play Macy's Backstage Pass and WIN a Shopping Spree Worth Up to $500!!
1.  Just click the link above and click Shop Now! (…b/c if you go through ShopAtHome.com and decide to also shop while you are there you will earn CASH BACK!)
2.  Click the Macy's Backstage Pass banner toward the bottom of the page.  Click Find Out More and read how to play!!!
3.  When you click Official Rules on the Red Pop Up box…You can scroll and find the Online Entry (view image below).  It will allow you to connect with facebook!


IF YOU WIN…Be sure to let me know!!!!  Good Luck!!!  I think you can keep playing until you win…but I am not positive of that…so let me know!!!  Don't forget to spend it by going through ShopAtHome.com!
(Thanks, Melissa!)