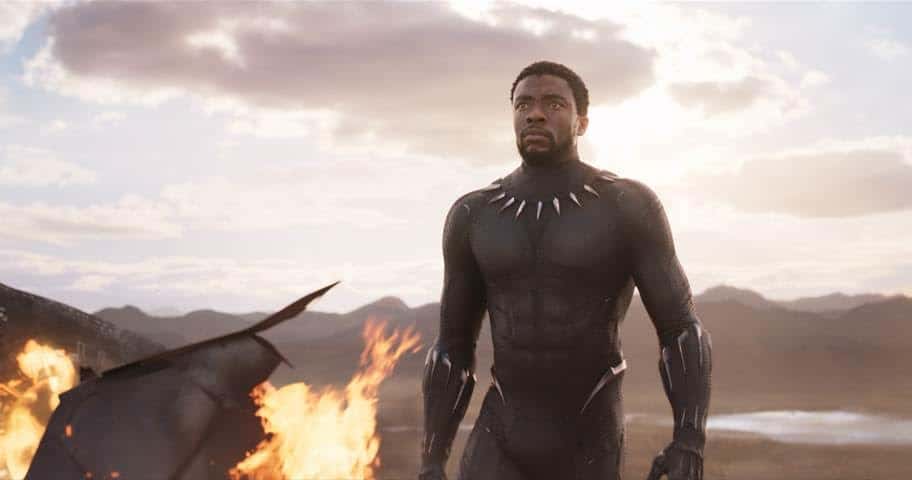 Black Panther
Review by Myla Tosatto


At my recent viewing of Black Panther, a little guy about 7 or 8 was there in full Black Panther costume. It was perhaps the cutest thing this hardened heart has seen in a long time. He made the whole theater audience go, "awwww". This is the power of the Black Panther movie. There is community behind it. It was a long time coming, and I'm glad it's finally here.  If you have seen the movie, be sure to check out our Black Panther Quotes list, there are some great ones that we shared!
The Black Panther story starts off right where we left T'Cahlla (Chadwick Boseman) in Captain America: Civil War. He is grappling with the death of his father, King of Wakanda, T'Chaka (John Kani), at the hand of Ulysses Klaue (Andy Serkis) and the fact that he is now the king himself, and, therefore, the Black Panther. Helping him in his journey is General Okoye (Danai Gurira), Agent Everett Ross (Martin Freeman), his sister Shuri (Letitia Wright), his mother Ramonda (Angela Bassett), elder Zuri (Forest Whitaker) and friends Nakia (Lupita Nyong'o) and W'Kabi (Daniel Kaluuya). He will also meet Erik Killmonger (Michael B. Jordan) along the way. If you think the cast is stacked with heavy hitters, you would be correct.
The script by director Ryan Coogler and Joe Robert Cole is much more earnest and serious than recent Marvel movies such as Antman, Guardians of the Galaxy II and Thor: Ragnarok. The movie makers have a lot to say and they take care of business. We do get comedy relief in the form of Shuri, Princess of Wakanda. I CANNOT wait until she gets her own franchise! Marvel, please make it so! She is the Disney Princess we need and deserve!!
I wondered why this wasn't a HUGE summer tentpole movie, but then realized that its February release coincides perfectly with Black History Month. What better way to celebrate than to grab everyone you know and head to the Cineplex to see Black Panther. WARNING: there is some violence. However, I would have hated for my little costumed super hero mentioned above to have missed this movie. It meant the world to him, and therefore it should to the rest of us.
Are you planning to go and see Black Panther?
If so you can purchase your tickets today!