Ben Whishaw's cute smile and Emily Mortimor's charm filled the room during my interview with them for Mary Poppins Returns. While in LA, for the Mary Poppins Returns World Premiere, I attended the Press Junket where I sat down with the cast and crew. So far I have shared interviews with Lin Manuel Miranda and Emily Blunt.  Sitting down with Ben Whishaw & Emily Mortimer was also very special!



Ben Whishaw plays "Michael Banks" and Emily Mortimor plays "Jane Banks".  They are all grown up now and no longer believe in the magic of Mary Poppins.  Ben is struggling in life and his sister Emily tries to be as helpful as possible.  It isn't until Mary Poppins shows up when they need her most.

Ben's performance is heart warming, delightful, and warm.  There are parts of the movie that will make your eyes water (I think some people call these tears).  Emily's character brings great joy to the family and is as caring as a sister can be to be.  She makes a great supporting actress.

Interview with Ben Whishaw & Emily Mortimer

About Emily's Daughter
"Emily shared with us that she was at Barnes and Noble with her daughter.  "She found the book of Mary Poppins Returns, which I didn't realize they'd even done the book of Mary Poppins.  But there was Emily Blunt was on the front. And then she found a photo of me. And she's never been more impressed by me ever. It was so funny. She kept telling everyone we met. Mom's in a book!"

About Rob Marshall
Ben:  "Well… When Rob likes you, he really, really, really, really, likes you.  He doesn't hold back. You feel his love. You feel his… excitement about what you might bring."
Emily chimed in about what Ben was saying, "My dad always said that if you tell people they're beautiful or wonderful and clever and talented and special and amazing, they are."
About the Most Challenging Scene
Ben:  "I think that the final scene when we're in the… on the balloons was quite… challenging. I mean, everything was. But because that had to be the climactic moment, you know? And… It's weirdly much easier sometimes to play misery, and kind of whatever you know – Grief or whatever. But being open-hearted and happy can be quite hard…"
For Emily, she talked about a scene that I don't want to ruin for anyone who hasn't seen the movie.  It was a moment that made her sad but she had to pretend to be okay with it.  It is something human's do when there are bad situations that happen in their life where they are trying to make it easier for themselves.

Mary Poppins Returns will be playing in theaters on theaters on December 19th!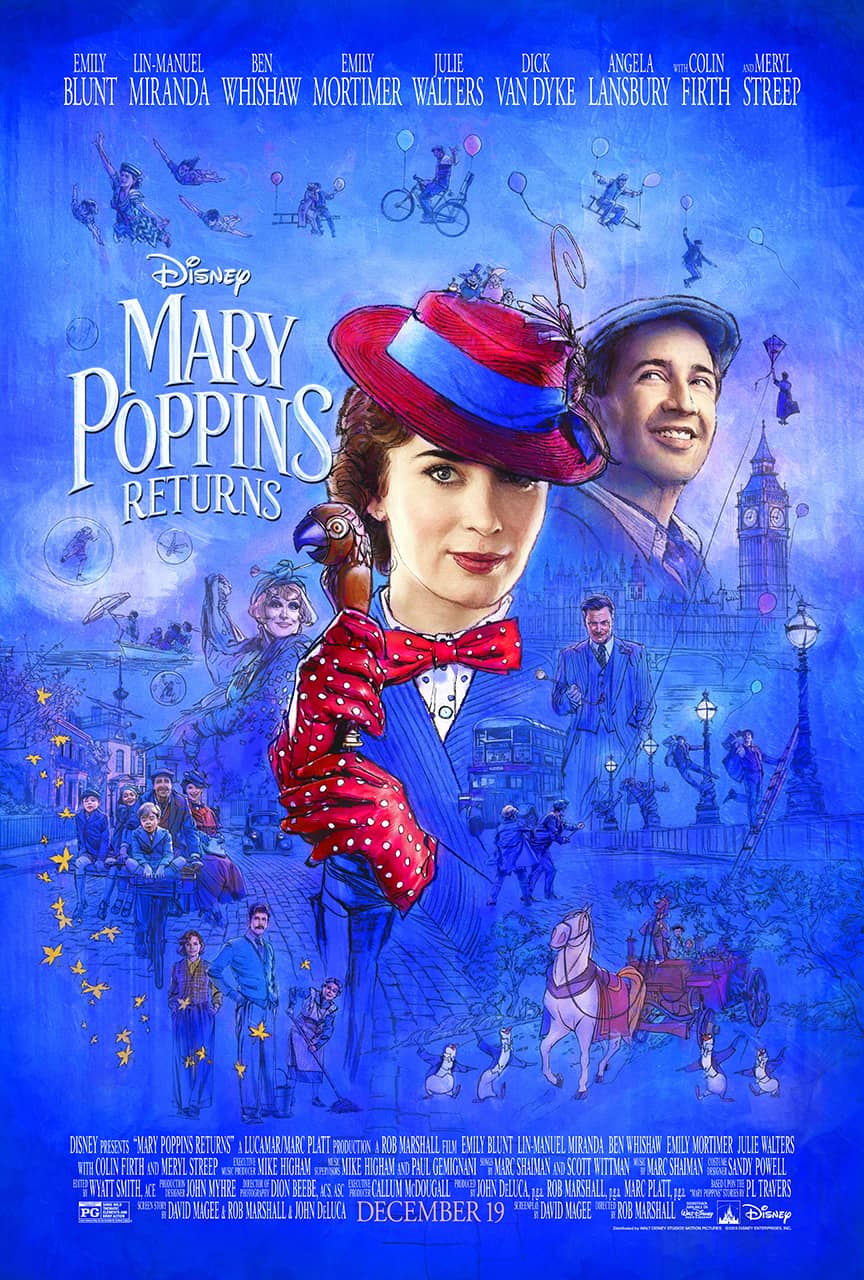 In Disney's "Mary Poppins Returns," an all new original musical and sequel, Mary Poppins is back to help the next generation of the Banks family find the joy and wonder missing in their lives following a personal loss. Emily Blunt stars as the practically-perfect nanny with unique magical skills who can turn any ordinary task into an unforgettable, fantastic adventure and Lin-Manuel Miranda plays her friend Jack, an optimistic street lamplighter who helps bring light—and life—to the streets of London.