We are finally excited to share our Mary Poppins Returns interview with Emily Blunt! If you haven't heard the best movie of the year is probably going to go to Mary Poppins Returns. Emily Blunt is already up for best actress! She is the new Mary Poppins in Disney's Mary Poppins Returns. Her performance in the movie is spectacular and definitely deserves to be award winning! When I had the opportunity to sit down and chat with her, it was definitely a surreal experience.


Emily, had just left a room with lots of critics and entered a refreshing interview room with 25 mom bloggers who are all excited to promote the film!  We applauded as she entered the room and she said with a sigh of relieve, "Hi guys.  Oh you just woke me up.  There's like no cynicism in here.  It's so nice."

Question: What was your favorite costume and why?
Emily: "I have to say I really loved the red suit with the skirt that kind of flowed out when I danced with 30 Lamplighters, I was like yes, you know. And I remember Rob Marshall really wanted like a Ginger Rogers type of look to that and it's not actually accurate for the time period to have a skirt that opened up like that. So that's where Sandy Powell, the great Sandy Powell created all those very tight pleats so that it looked very chic and sort of straight lined. And then when I turned, the whole skirt kind of opened up and she's just so exciting to work with, Sandy Powell. I mean all the costumes are so extraordinary but I think the red suit was pretty epic, loved it."

Question: What was the moment where you were like either with the table read or when you read the script originally or when you're fully dressed when you're like Holy Smokes?
Emily: "I would say the arrival scene where I am dangling 60 feet from a crane and Rob Marshall played the amazing orchestral music from the speakers, like blared it from the speakers so that it was very transporting and really exciting but I was kind of terrified at that…. But I think that was the moment because I had the coat, the hat, the umbrella, the feet, the kite and that was when it was one of the only moments I allowed myself cause I kind of had to block out the fear of how iconic she was in taking this on for most of the shoot.  But that was the moment where I allowed myself that moment of I'm gonna vomit like it was really insane."
Describe the impact of Mary Poppins for you being a Mother.
Emily: I feel my whole household is full of imagination and childlike wonder cause my kids are so young and so I do feel like I've sort of rediscovered life through their eyes really. I mean Hazel is a bit disappointed that there aren't dolphins in her bathtub so I feel like actually in a way, Mary Poppins has kind of shot me in the foot, like I know I'm only going to be less than."
Question: What was the biggest challenge?
Emily: I mean, the dancing was a bit daunting because I'd never done those sort of big show stopping Hollywood numbers and the great Rob Marshall and his incredible Choreographers as well as incredible Director. So we were in safe hands. I feel like Lin Manuel and I were sort of on a par with dancing abilities so we were in it to get there, Thank God. If I had been dancing like Justin Timberlake, that would have been really embarrassing. I would say that. But then on a deeper note, I think the initial idea of taking her on because she is so iconic and Julie Andrews is so iconic and the character has this searing imprint on people's lives."
About her version of Mary Poppins:
Emily: Well I think she's much closer to how she is in the book. That's how I played her. And in the book, she's incredibly rude and vain and funny and enigmatic and weird. She's sort of bizarre and layered and so for me, it was sort of how do I find those cracks of humanity in a super human and where are me? And I said to Rob Marshall, I said the sternness, I really want all the sternness and this sort of imperious quality to her, like to drop when she goes into these Fantasias. She should be like an adrenaline junkie and that sort of duality of the character."
Question: What is it like working with Dick Van Dyke?
Emily: Oh My God. It was so overwhelming I have to say because he's so sprightly and cool, just what a gorgeous human and he walked on set and he just said I feel the same spirit here that was there on the first movie, and of course, we all wanted to cry. "

Also check out the new Mary Poppins Returns Funko Pop Figures! During our interviews I was gift Jack the Lamplighter! Now I need Mary Poppins Funko Pop Figure in my life!

Mary Poppins Returns will be playing in theaters on theaters on December 19th!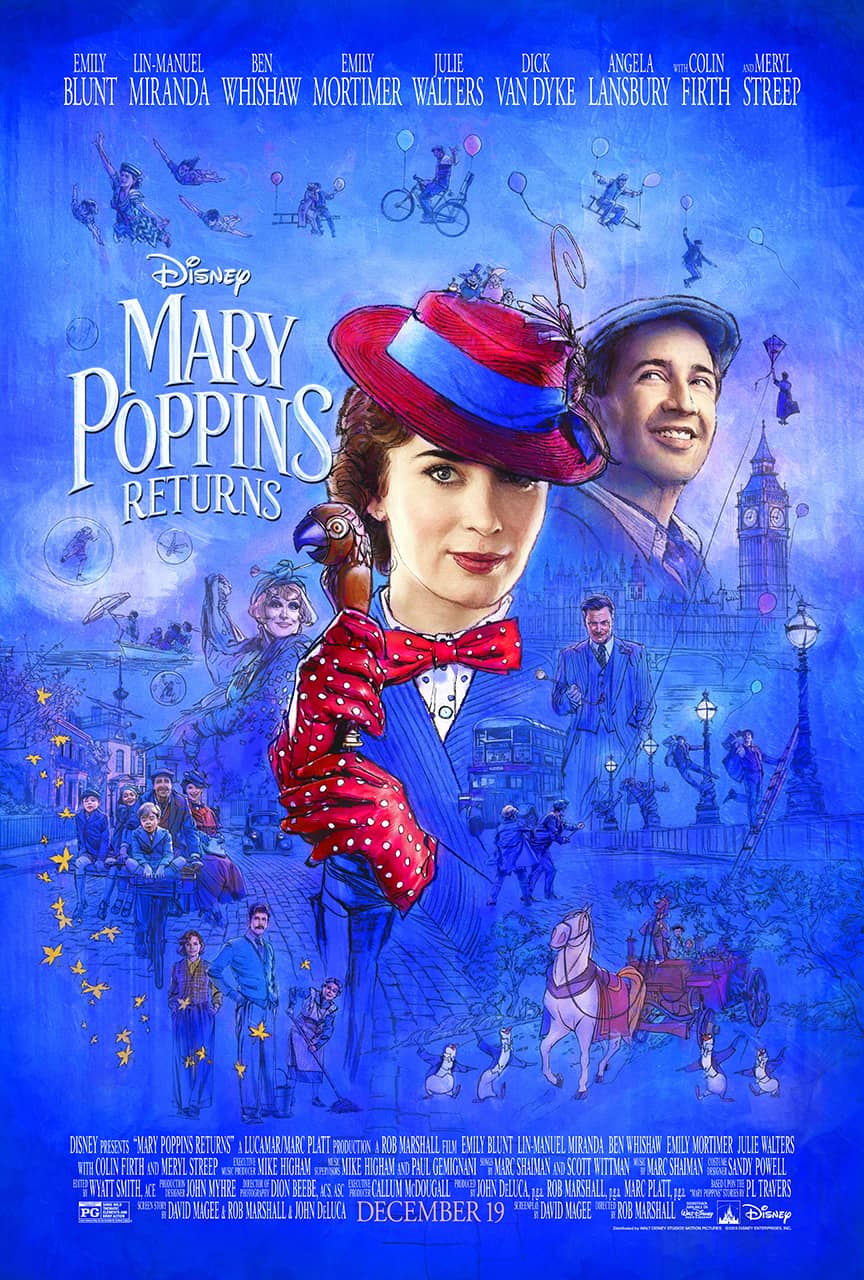 In Disney's "Mary Poppins Returns," an all new original musical and sequel, Mary Poppins is back to help the next generation of the Banks family find the joy and wonder missing in their lives following a personal loss. Emily Blunt stars as the practically-perfect nanny with unique magical skills who can turn any ordinary task into an unforgettable, fantastic adventure and Lin-Manuel Miranda plays her friend Jack, an optimistic street lamplighter who helps bring light—and life—to the streets of London.