We LOVE Mickey and Roadster Racers! I was provided a DVD copy for my girls and they loved it! They tore it open before I got a chance to check out the cute stickers and goodies that were in the DVD box! The DVD has been out for just enough time that I found a great deal if you purchase two and sign up for EBATES for the first time!
When you sign up with ebates and make a purchase of $25 or more you earn $10 cash back from Ebates. We love using cashback sites! Walmart as Mickey And The Roadster Racers on sale for only $12.96! So if you purchase 2 and go through Ebates to score $10 back then you end up getting each DVD for only $7.96 each! Pair that up with a little Mickey toy and you have two great birthday gifts ready to go!
We love all of the Mickey shows at our house! This one especially! It is new and fresh and teams up really well with my Mickey Mouse Clubhouse lovers (the kids) as is!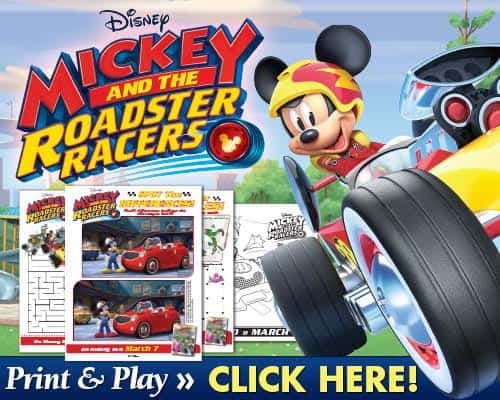 Mickey Mouse, his friends and fast, transforming racecars. What's not to love? MICKEY AND THE ROADSTER RACERS will be making its Disney DVD debut on March 7th, so mark your calendars for this high-octane release! Minnie and Daisy join in the racing fun and still finding time to help others. When these racers aren't zooming to victory, they're solving problems for anyone in need at their fabulous "Happy Helpers" headquarters. With friendly competition and fun new vehicles, MICKEY AND THE ROADSTER RACERS is a wild ride that's turbo-charged with nonstop laughter and awesome adventures from start to finish!