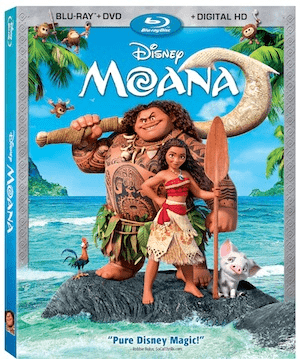 Movie night is my favorite night of the week; phones are off and it's quality time with my family! When I was asked to review Moana I knew it would be perfect for a movie night! The good news for you guys is that it is now available on DVD!!
The epic journey continues for "Moana" fans as Walt Disney Animation Studios introduces an all-new sing-along version of the hit, critically-lauded comedy-adventure "Moana." From Walt Disney Animation Studios comes "Moana," a sweeping, CG-animated adventure about a spirited teenager who sails out on a daring mission to prove herself a master wayfinder and fulfill her ancestors' unfinished quest. During her journey, Moana meets the once-mighty demi-god Maui, and together, they traverse the open ocean on an action-packed voyage, encountering enormous fiery creatures and impossible odds.

My entire family loved Moana and the other night we enjoyed having a movie night to watch it all together. If you haven't seen Moana it is a must see movie!  Disney was able to incorporate what they do best with a great storyline, amazing characters, and like every other Disney princess movie it has a great soundtrack and a hilarious animal side kick!