The Nut Job 2: Nutty by Nature Movie Quotes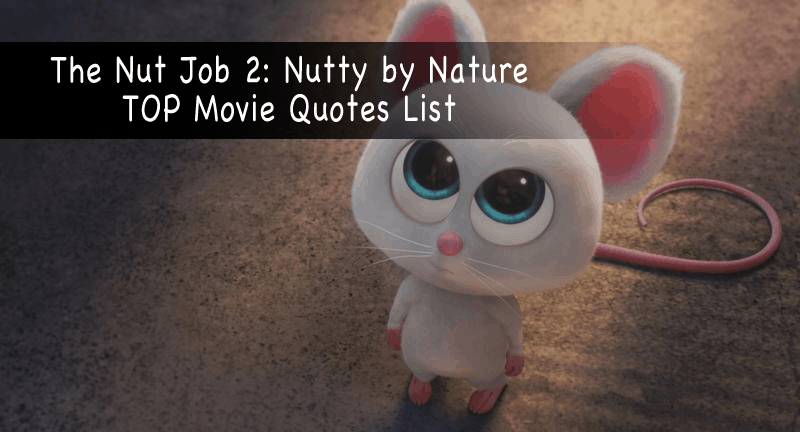 If you enjoyed the movie "The Nut Job 2: Nutty by Nature" and are looking for a movie quote we came up with our list of favorites. Movie Myla attended an early screening to review the film and also share the best lines from it! We hope you also share your favorite quotes with us by commenting below! Also check out our Nut Job 2 movie review.
"If you're lucky, they give you nuts. If you're unlucky, they are nuts."- Surly
"Now if you will excuse me, I got to get back to slacking off."- Surly
"Remember, the nut is your friend."-Andie to her young students
"Easy doesn't build character. Easy doesn't last."- Andie to Surly
"Hot Dog on a Stick!"- Chanting Crowd
"Wow, these guys are serious about donuts."- Surly about the police
"What are you doing?"- Surly to Andie
"Singing. It seems like the right thing to do."- Andie
"This doesn't look good."- Andie
"Why don't you sing a song about it?"-Surly
"Calm down. It's a fat guy with a tiny shovel. How much damage can he do?"- Surly
"Instead of doing what was right, you did what was easy."- Andie to Surly
"Now we both have a squished in face."- Precious to Surly
"Yes, I received your bribe. Did I say bribe? I meant campaign contribution."- The Mayor on the phone
"Sir, we are overrun with animals. They threw our potty in the river."- Construction worker to The Mayor
"My name is Frankie. It's long for Frank."-Frankie (Bobby Cannavale)
"My licks are magical!"- Precious
"Time to eat my vegetables. And by vegetables, I mean ketchup."- The Mayor
"Don't mess with the little guy."- Mr. Feng
"So long, suckers. I hear Canada is nice this time of year."- The Mayor
Surly Squirrel (Will Arnett) and the gang are back. We are once again in Oakton where the evil mayor has decided to bulldoze Liberty Park and build a dangerous amusement park in its place. Surly and his ragtag group of animal friends band together to save their home, defeat the mayor, and take back the park.
Enjoy and check out our affiliate links below:
Purchase discounted tickets by using Dealflicks.com! Feel free to save an additional 20% by using the code RFGGTRFLUF at checkout!