The Nut Job 2: Nutty by Nature
Review by Myla Tosatto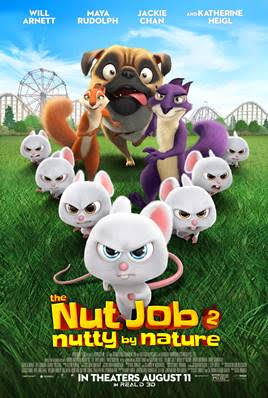 The kids are going back to school soon. The summer wears on. You're bored and you're sick of the swimming pool. School supplies are purchased. Back to school clothes are good to go. No more vacations planned. What do you do with the kids now? You take them to the movies! The Nut Job 2: Nutty by Nature is here to save you from the end of summer doldrums!
The movie is appropriate for all ages. It isn't going to tax anyone's summer brains with its story of cute, furry woodland creatures that get displaced from their easy living home of an abandoned nut factory. Little ones will easily follow idle Surly (Will Arnett), cautious Andie (Katerine Heigl), over affectionate Precious (Maya Rudolph), agreeable Buddy (Tom Kenny), fierce Mr. Feng (Jackin Chan) and the rest of the super cute crew as they try to relocate to the park that is right across the street from the factory. Of course, this turns out to be harder than expected because of the greedy Mayor (Bobby Moynihan), his complicit daughter (Isabela Moner), and an evil exterminator (Peter Stormare). There are lots of environmental, greed is bad, and early birds get the worms lessons you can discuss with your kids afterwards. Might as well get their minds ready for school!
P.S. It is absolutely NOT necessary to have seen the original The Nut Job. I went in fresh and was able to follow along. #bragging
Purchase discounted tickets by using Dealflicks.com! Feel free to save an additional 20% by using the code RFGGTRFLUF at checkout!
NOW playing in theaters!!!