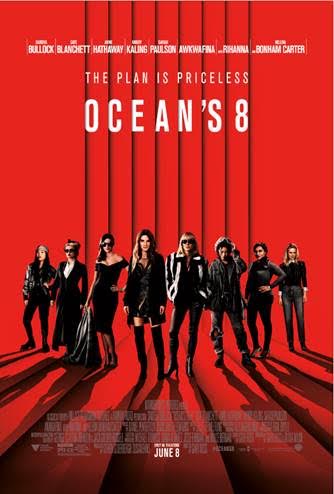 We are so excited to have tickets in Kansas City for an Advanced Screening for Oceans 8! Claiming these tickets are pretty easy. Email [email protected] for a chance to win tickets to see the movie. Winners will be selected at random and replied back to via e-mail.
In your e-mail please let them know you want to win tickets from Enza's Bargains!
The screening is Wednesday, June 6th at 8pm at AMC Studio 28! Enjoy a late summer night with an awesome cast!
**NEW** Kansas City Exclusive E-mail List for Enza's Bargains
We had to start our e-mail list over from scratch.  Be sure you have subscribed again (if you were already on it).
If you are in KC and want me to e-mail you free movie passes, giveaways, and information on local entertainment please be sure to subscribe to my **NEW** e-mail!  Those who have subscribed get first dibs usually on tickets and giveaways! Subscribe HERE.  Now since you have subscribed, be sure to fill out the form for your official entry!
Sandra Bullock, Cate Blanchett, Anne Hathaway, Mindy Kaling, Sarah Paulson, Awkwafina, Rihanna and Helena Bonham Carter team up in the action adventure "Ocean's 8."

Five years, eight months, 12 days…and counting. That's how long Debbie Ocean (Sandra Bullock) has been devising the biggest heist of her life. She knows what it's going to take—a team of the best in their field, starting with her partner-in-crime Lou Miller (Cate Blanchett).

Together, they recruit a crew of specialists: jeweler Amita (Kaling); street con Constance (Awkwafina); expert fence Tammy (Paulson); hacker Nine Ball (Rihanna); and fashion designer Rose (Bonham Carter).

The target is a cool $150 million dollars in diamonds—diamonds that will be around the neck of world-famous actress Daphne Kluger (Hathaway), who will be centerstage at the event of the year, the Met Gala. The plan is rock solid, but everything will need to be flawless if the team is going to get in and get away with the ice. All in plain sight.