It's time to change up my go to game. We have played Monopoly, Chutes & Ladder, and Candy Land more times than I can count. That is until recently. My family and I have really enjoyed playing Operation: Escape! This post might also contain affiliate links which may earn us a small percentage to help cover our expenses if you choose to make a purchase.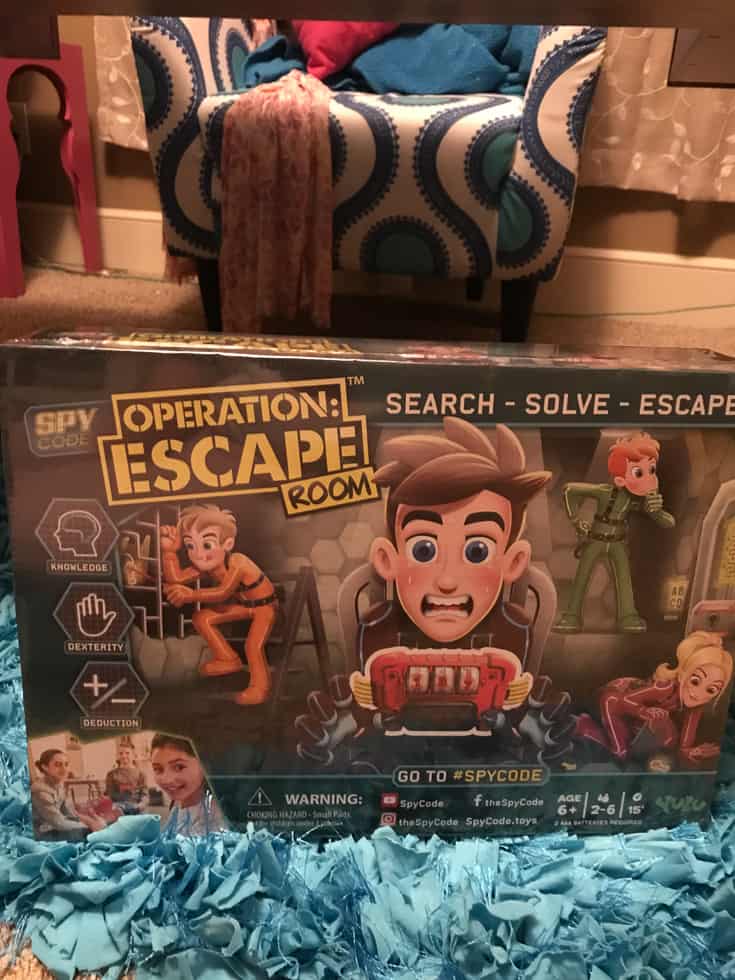 I am sure you have heard and seen on Facebook about Escape rooms. Operation: Escape from YULU Toys is a new interactive game that taps into the escape room trend by combining skill, strategy and teamwork to search, solve and escape the room before time runs out! The objective is to work together and complete three tasks in order to set the captured player free of the master belt before time runs out.
Playing is simple.
First, choose a player to be captured. Place and lock the belt on the player and set the timer on the belt using the rotating dials. The game includes a series of three challenges, a Skill Challenge, Strategy Challenge and Luck Challenge. The Skill Challenge requires players to wiggle a key out from the bottom of a cage using sticks. The Strategy Challenge uses cards divided into three levels of difficulty. Enter the card number into the device, solve the problem and then enter the answer into the same device. If the answer is correct, 1/3rd of the key will come out. Players must solve three problems in a row in order to retrieve the key. If the answer is incorrect, the key will pop back into the device. In order to solve the final challenge, the Luck Challenge, players must insert the correct key into a device and spin it. They have three chances to find the key in the device. If players are unable to find the key, they must reset the spinner and start over.  Remember to work quickly! If all tasks are not solved within the time frame on the belt, the player wearing the belt stays captured and everyone loses.
Each Operation: Escape game comes with one master unit belt, three challenges, three keys and a set of cards. Are you ready to change up your game collection? You can find Operation: Escape on Amazon for $29.99.
Be sure to check out the UPDATED Holiday Gift Guide Items this year for 2017!

[catlist id=225 thumbnail=yes numberposts=50 template=enza]