I am so excited to announce that I have been invited to attend Oz the Great and Powerful Red Carpet Premiere Event! I got the exciting news a day ago and I couldn't keep my mouth shut and yelled out the news to EVERYONE! I will get to be with 24 other Disney Mom Bloggers and two amazing Disney PR Reps where we take over L.A. with 3 fun-filled days!
I am in Kansas City and the Wizard of Oz was played on TV all the time. When I first got the press release that Disney was doing this movie, I got so excited to see it. NOW, I get to see it from the Red Carpet!
On Wednesday, February 13th, I will arrive in L.A., get ready, and then walk the red carpet for the Oz The Great and Powerful Premiere at Hollywood's Famous El Captain Theater.  On Thursday (Valentine's Day), I travel to the Walt Disney Animation Studios for a press day of Wreck-It Ralph (my other Valentine, besides my hubby and daughter)! I love this movie!! Then that evening, I will be attending an Oz the Great and Powerful reception! Friday, I will interview cast from the movie: James Franco, Mila Kunis, Michelle Williams, Rachel Weisz, Zach Braff, Joey King and Director Sam Raimi. Do you even realize how much talent is in that list of names I just read?! Oh Em Geee! 🙂 As I am reporting live (via #DisneyOzEvent) I will be SURE to give you the update on EVERYTHING I get to do!!!!
I feel like I am in a fantasy dream, perhaps in the Land of Oz! I promise to my BEST in keeping you updated! Get real live updates via twitter by following me and the hashtag #DisneyOzEvent. I plan to have the time of my LIFE. I know when I am in L.A., I won't be thinking that there is "no place like home"! I might not want to come back home to reality!
Follow me on twitter: @enzasbargainsFollow @EnzasBargains

"Follow" OZ THE GREAT AND POWERFUL on Twitter: @DisneyPicturesFollow @DisneyPictures

Follow the entire hashtag by clicking the button below!

Read the official Disney PR description about the movie: Disney's Oz the Great and Powerful: ANNOUNCEMENT + New Poster!
Watch the trailer of Oz The Great and Powerful: Oz the Great and Powerful: Trailer Available!
Wreck-It Ralph: My entire family LOVED this movie! It was one of the best animated films I have seen! Creative, smart, and really really well written! Of course I will be owning this movie! I can't believe I also get to attend this event as well! Be sure to pre-order your copy of Wreck-It Ralph (released 3/5/13)!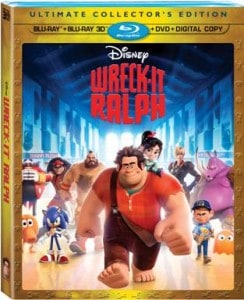 Disclaimer: This event and trip is sponsored by Disney.  My opinion, views, & experience are all real & honest.