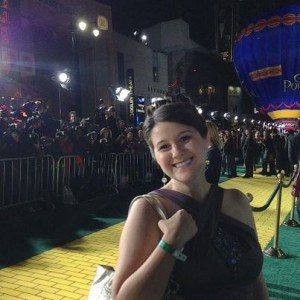 I finally made it to my first L.A. Red Carpet Experience for Oz The Great and Powerful at the El Capitan Theatre. The premiere was Wednesday, February 13, 2013. The experience was amazing and sure to give me memories to last a lifetime! Imagine walking right next to celebrities, hundreds of cameras flashing toward you (for the celebs, but a girl can dream), and amazing set ups on Hollywood with movie decor!
Getting Ready for the Event: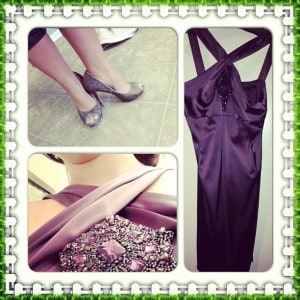 I knew that I wanted to make sure that what I wore looked pretty and of course didn't break the bank! So let me tell you about what I was wearing and how much it really cost! You know I am bargain hunter, but I like to spoil myself as well (about once every 2 years…haha). I wore a David Meister dress with a price tag on it for $495.00. The fabric and making of the dress was awesome. It was really constructed well and you could tell the difference between a $500 dress and a $50 dress. I could at least. I then found these beautiful shoes online they were Badgley Mischka and priced on their website for $245.00.
Now you KNOW I didn't that much money on a one day outfit! I had about $40 in free Amazon gift cards and found my $245 shoes on sale at Amazon.com and paid only $45.00 for them. My mother works at a local store as a seamstress and often when items don't sell they put it up in an employee auction. Usually the items have some missing pieces, or a rip, or something to that sort. My mom won my $495.00 dress for ONLY $2 and there was NOTHING wrong with it.
Dress: $2 (Retail $495)
Shoes: $40 (Retail $245)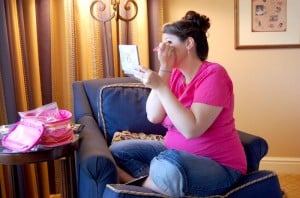 I got my hair done as a Valentine's Day gift to myself at the Langham Huntington Spa and did my own make-up using mostly Urban Decay Oz Theodora set.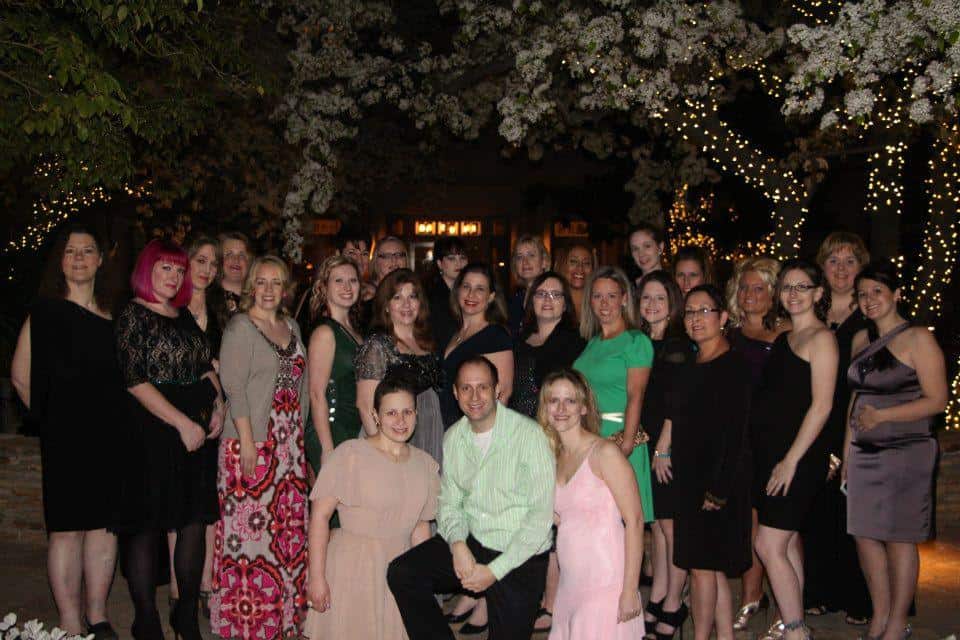 Walking the Red Carpet: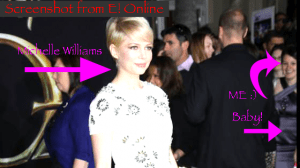 We drove to Hollywood from Pasadena and I recognized Hollywood Boulevard from all of the movies! Of course, the road was blocked off for the event so we had to get dropped off a couple of blocks from the event. I walked in my 4 inch heels over the famous stars that lined the sidewalk. We stopped on the Oscar stairs to take a picture. We then made it to our location. As we are getting to the event the paparazzi were snapping and yelling at stars as they were getting out of their cars. People lined the streets with their cameras. You can feel the pressure as the workers were asking people to not stop and keep on moving. They needed to get everyone in the theater without stopping traffic. It was tough so of course, I snuck in as MANY pictures as I could! Even made a picture on E-online behind Michelle Williams. Many famous people were on the Red Carpet! Check out this list: Ashton Kutcher, Greg Kinnear, Neil Patrick Harris, Andy Garcia, Tobey Maguire, Arnold Schwarzenegger, Amaury Nolasco, Bill Paxton, Busy Philipps, David Burtka, Donald Faison, Janel Parrish, Joanne Baron, Sarah Chalke, Steven Weber, Erin Andrews, Wayne Brady, Marc Forster, Florian Henckel von Donnersmarck, Elon Musk, Melissa Blake, G. Hannelius, Blake Michael, Francesca Capaldi, Beth Littleford, Jonathan Dayton, Valerie Faris, Linda Woolverton, David Fincher.
Here are some photos from Disney: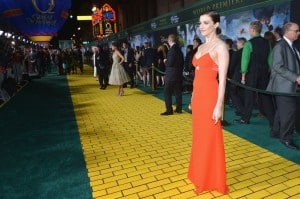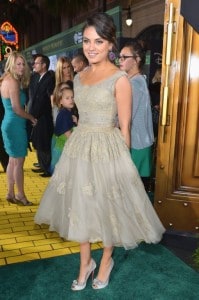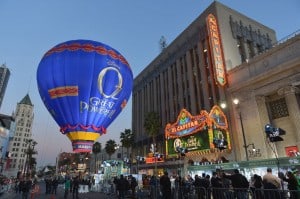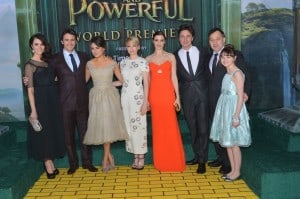 The Location:
We were at the famous El Capitan Theatre in Hollywood! The theater was beautiful! It has an organ player prior to the movie playing and about 4 different curtains that opened up prior to the film.
After Party:
The celebs were all at the After Party too! It was SO much fun! I didn't even want to go home! I was literally standing right next to Rachel Weisz AND I ate BACK to BACK behind Ashton Kutcher! There was a body guard right next to me and I think because I looked harmless, left him alone, and had a belly we weren't asked to move. Once we started walking around the body guard slid over right where we were standing. I spoke to people like Joey King and her friend Emma (the director, Sam Raimi's daughter), the folks from Disney's Dog With a Blog, and an actress who will be one of the tributes in the next Hunger Game's movie (we had the same shoes in different colors). They had food, photo booths, displays, a "green" room, and so much more!
When and Where to Watch the Movie:

The movie comes out March 8th! If you live in LA be sure to check out the El Capitan Theatre! The theatre is beautiful and has some amazing architecture!  It will play at the El Capitan Theatre in Hollywood, CA from March 8th – April 30th in Disney Digital 3D and Real D 3D. You will see an exclusive display of costumes while you are there. For the First 3 weeks only (March 8 – 31) See "Disney Mysteries of Magic" live on stage! Yes you will get to see LIVE magic before the show! Totally fits this movie! For tickets call 1 (800) DISNEY6 or visit www.elcapitantickets.com
If you don't live in LA be sure to find your local theater for the 3D showing! My review of the movie will soon follow…Yes, it was REALLY good! 🙂
Disclaimer: This trip was sponsored by Disney. All opinions and experiences are my own and weren't influenced by the sponsorship.