My girls always give me a HUGE LOL experience when watching Paddington and the Paddington 2 trailer. They are both so excited to see this movie. I am so excited to have movie tickets to give away to our Kansas City readers and our subscribers!!  If you got an early e-mail from me that these tickets were going live, then that means you are on our email list!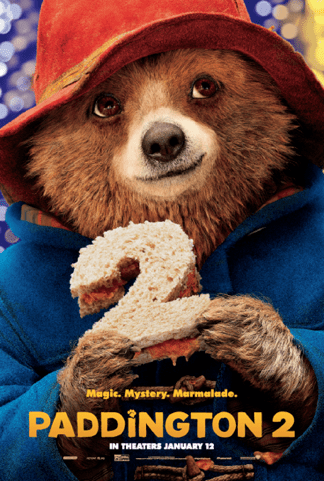 About Paddington 2
Following the worldwide hit "Paddington," one of the most successful family films of all time, this much-anticipated sequel finds Paddington (Ben Whishaw) happily settled with the Brown family in London, where he has become a popular member of the local community, spreading joy and marmalade wherever he goes.

While searching for the perfect present for his beloved Aunt Lucy's hundredth birthday, Paddington sees a unique pop-up book in Mr. Gruber's antique shop, and embarks upon a series of odd jobs to buy it. But when the book is stolen, it's up to Paddington and the Browns to unmask the thief.
Paddington 2 Kansas City Advanced Screening
SATURDAY, JANUARY 6TH
AMC STUDIO 28
10:00AM
Get your advanced tickets here.
Tickets are not guaranteed.   If you are unable to attend please delete your tickets so that someone else on the waiting list can attend the screening.  Please only reserve tickets for yourself and your family.
**NEW** Kansas City Exclusive E-mail List for Enza's Bargains
We had to start our e-mail list over from scratch.  Be sure you have subscribed again (if you were already on it).
If you are in KC and want me to e-mail you free movie passes, giveaways, and information on local entertainment please be sure to subscribe to my **NEW** e-mail!  Those who have subscribed get first dibs usually on tickets and giveaways! Subscribe HERE.  Now since you have subscribed, be sure to fill out the form for your official entry!