We are so excited about Paddington 2! Movie Myla watched it loved it and wrote down her favorite Paddington 2 Quotes list to share with all of you. You have seen the movie, most likely if you are coming across this post! We are excited to share with all of you our favorite lines. Comment below to let us know if we missed any that you loved!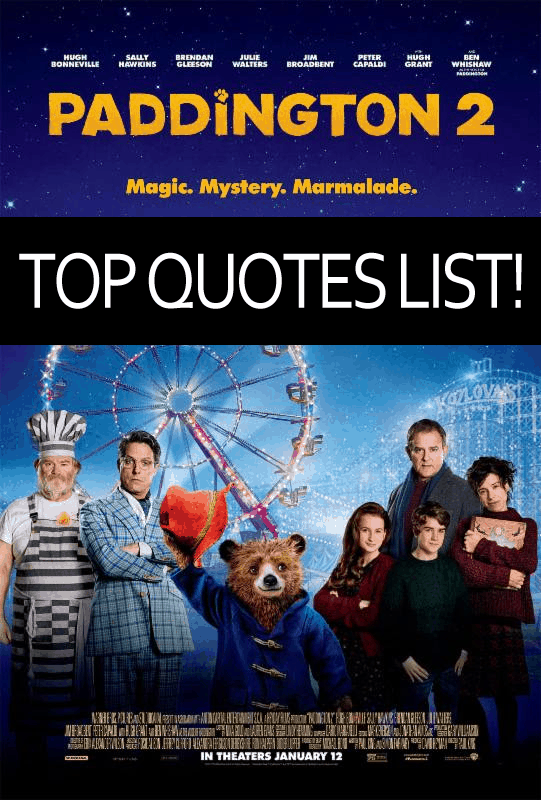 Paddington 2 Quotes
(Myla Tosatto's gathered these quotes! Thank you!)
"I'm afraid we're not going to London after all."- Aunt Lucy (Imelda Staunton)
"Why not?"- Uncle Pastuzo (Michael Gambon)
"We have a cub to raise."- Aunt Lucy
"If we look after this bear, I have a feeling he'll go far."- Aunt Lucy about Paddington
"Coconuts are a young man's game."- Mr. Brown (Hugh Bonneville)
"I'm not supposed to talk about that because it is 'not cool' ". – Paddington (Ben Whishaw) about trains
"Just giving you some product, sir."- Paddington in a barber shop
"Aunt Lucy said that if we're kind and polite, the world will be right."- Paddington
"I am tickled the deepest shade of shrimp."- Phoenix Buchanan (Hugh Grant)
"Well, a man has to eat."- Phoenix
"What? Dog food?"- Paddington
"Good morning, Colonel. Are you aware there's a bear on your roof?"- Mr. Curry (Peter Capaldi)
"Got my eye on you, bear."- Mr. Curry
"Put your paws in the air."- Police Officer (Claire Keelan)
"Why the lemon face, Hamlet?"- Phoenix speaking to a mannequin
"I refuse to believe that your Mr. Brown would ever rob my shop."- Mr. Gruber (Jim Broadbent)
"Should my entrails be ripped out, wrapped around my neck if I deceive."- Phoenix
"It's only one red sock, what's the worst that could happen?"- Paddington about the laundry
"Aunt Lucy said if you look for the good in people, you will find it."-Paddington
"She never met Nuckles."- Prisoner
"This bear is now under my protection. Anyone that touches a hair on this bear will have to answer to me, Nuckles McGinty. That's Nuckles with a capital N."- Nuckles (Brendan Gleeson)
"What happened to the man I married?"- Mary Brown (Sally Hawkins)
"Oh, him? He's gone."- Mr. Brown
"Wakey, wakey, marmalade time."- Nuckles to Paddington
"It's a hard stare. Aunt Lucy taught me to use them when people have forgotten their manners." – Paddington to Nuckles
"A nun went berserk. It happens."-Barry the Security Guard (Simon Farnaby)
"Excuse me, Professor, what would Aunt Lucy say?"- Paddington about using etiquette
"Always use a cake fork."- The Professor (Jamie Demetriou)
"Life would be breezier if you loved your neighbor."- Band
"Our imaginations run free like the bison on the plains."- Phoenix
"Oh, Mary, you look sad. You don't like musicals?"- Phoenix
"Feathers knew all along."- Mary
"Feathers? Who's Feathers? The parrot at the newsstand?"- Mr. Brown
"Actors are some of the most evil, devious people on the planet."- Mrs. Bird (Julie Walters)
"Good grief, the man spends a lot on face cream."- Mr. Brown about Phoenix
"Oh my God, he's a weirdo."- Mr. Brown about Phoenix
"I'm delighted to say that everything is tickedy boo."- Mr. Brown
Paddington 2 is now playing in theaters!
Following the worldwide hit "Paddington," one of the most successful family films of all time, this much-anticipated sequel finds Paddington (Ben Whishaw) happily settled with the Brown family in London, where he has become a popular member of the local community, spreading joy and marmalade wherever he goes.

While searching for the perfect present for his beloved Aunt Lucy's hundredth birthday, Paddington sees a unique pop-up book in Mr. Gruber's antique shop, and embarks upon a series of odd jobs to buy it. But when the book is stolen, it's up to Paddington and the Browns to unmask the thief.
Purchase discounted tickets by using Dealflicks.com! Feel free to save an additional 20% by using the code RFGGTRFLUF at checkout!