Disclaimer: I was invited on an all expense paid trip to PIXAR. All opinions are my own and I am genuinely excited and happy to document my experience to all of you for #InsideOutEvent #Waltagram #MonkeyKingdom. I am totally going to be getting in touch with my emotions!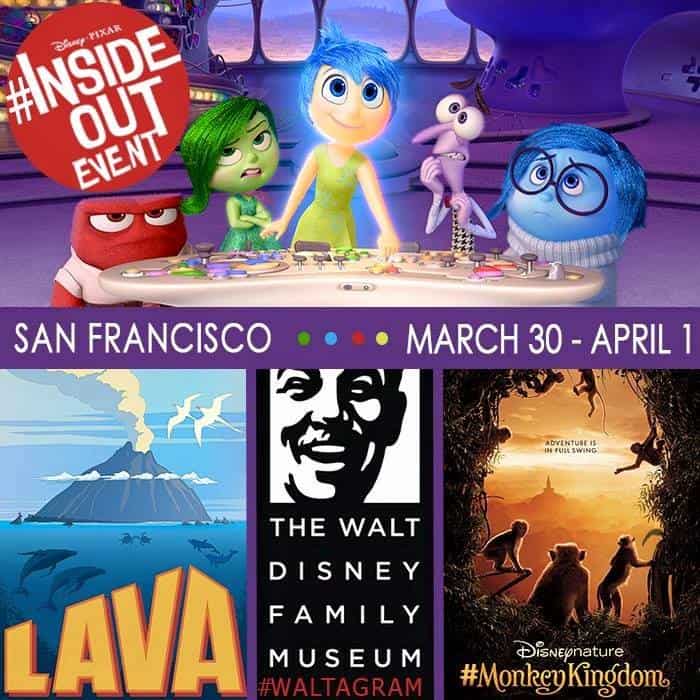 OH MY GOSH! I am going to San Francisco! …What ever happened to predictability? The milkman, the paperboy, evening T.V….and PIXAR! Okay, if you are an 80s baby you know what I was quoting! I received one of the best invites in my inbox this last weekend! I found out that I am going to get to be visiting PIXAR studios with Disney in San Francisco!
I would have never imagined when I started couponing 5 years ago that I would start this blog and now travel around the country on some of the best trips! After all, I was just looking to save people money on diapers! Now, I am sharing my adventures and my love for things like Disney, Movies, Traveling, and more!  When this invite hit my inbox, I definitely was thrilled and humbled for this experience!
If you are new to my blog let me just tell you that I am the biggest geek in the world! I am not only a nerd to all things techie and to entertainment…but I am also a computer teacher. Every once in a while you will see me reference things that will be great lesson plans. This trip becomes not only an adventure to myself and to share with all of you, but to the hundreds of students that I encourage and teach the basics to web design, tech, and business to! Isn't that so cool! Visiting Pixar becomes one of the greatest classroom hooks a teacher can have.
This was the same dance that I did….
During my visit to PIXAR, the #PixarDust has brought a lot magic and emotions of excitement to my heart!
I am going to be covering the movie Inside Out. Every since, I found out that Pixar was creating this movie and I watched the Inside Out Trailer I was so excited! There are so many huge name actors in this film and many of them who have starred on Saturday Night Live! This time around I know that my agenda includes interviewing the creators of the movie. I get to go behind the scenes so to speak.
As I am reading the e-mail, I was getting even more excited and hyper and just wanted to keep on reading!  "Tell me more, Awesome Disney PR Rep!!!"
The final details of my itinerary aren't available yet! I will update this wonderful adventure as the time comes!
Attending a Pixar Reception
Watching footage from Inside Out
Watching and Screening the new short, LAVA
Interviewing Director, Pete Doctor
Interviewing Producer, Jonas Rivera
Interviewing Animators of the film
Touring PIXAR
Screening Disneynature's film, Monkey Kingdom
Visiting the Walt Disney Family Museum
Be sure to check out full exclusive coverage on EnzasBargains.com!  Thank you for taking the time to read this!  Enjoy these roses!
Go and see Inside Out on June 19th
From an adventurous balloon ride above the clouds to a monster-filled metropolis, Academy Award®-winning director Pete Docter ("Monsters, Inc.," "Up") has taken audiences to unique and imaginative places. In Disney•Pixar's original movie " Inside Out," he will take us to the most extraordinary location of all—inside the mind.

Growing up can be a bumpy road, and it's no exception for Riley, who is uprooted from her Midwest life when her father starts a new job in San Francisco. Like all of us, Riley is guided by her emotions – Joy (Amy Poehler), Fear (Bill Hader), Anger (Lewis Black), Disgust (Mindy Kaling) and Sadness (Phyllis Smith). The emotions live in Headquarters, the control center inside Riley's mind, where they help advise her through everyday life. As Riley and her emotions struggle to adjust to a new life in San Francisco, turmoil ensues in Headquarters. Although Joy, Riley's main and most important emotion, tries to keep things positive, the emotions conflict on how best to navigate a new city, house and school.
Go and see Monkey Kingdom on April 17th
Life is an adventure for Maya, the clever and resourceful blonde-bobbed monkey in "Monkey Kingdom," Disneynature's new feature film set among ancient ruins in the storied jungles of South Asia. Maya's world is forever changed when she welcomes her son, Kip, into her complicated extended family. Like all families, Maya's has more than its share of colorful personalities—and she's determined to give her son a leg up in the world. When their longtime home at Castle Rock is taken over by powerful neighboring monkeys, Maya's whole family is forced to relocate, where she uses her street smarts and ingenuity to lead them to untapped resources amidst strange new creatures and unsettling surroundings. Ultimately, they will all have to work together to reclaim Castle Rock, where Maya can hopefully realize her dreams for her son's future. Featuring a rich cast of characters, including a mischievous mongoose, simple-minded langur monkeys, predatory leopards and monitor lizards, "Monkey Kingdom" is directed by Mark Linfield ("Chimpanzee," "Earth") and co-directed by Alastair Fothergill ("Chimpanzee," "Bears"). With music from award-winning composer Harry Gregson-Williams ("The Chronicles of Narnia: The Lion, the Witch and the Wardrobe," "Shrek" movies), Disneynature's eighth True Life Adventure—the follow-up to 2014's "Bears"—swings into theaters April 17, 2015. For more information about the film and the conservation program, go to www.disney.com/monkeykingdom.