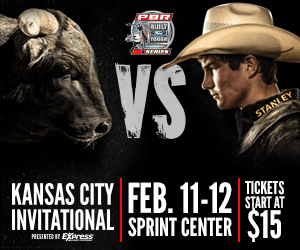 Professional Bull Riders – Kansas City Invitational Tickets are now available! The show is February 11-12 at the Sprint Center. I am so happy to be able to offer one reader a family four pack to enjoy Sunday's Show! I have never been, but it definitely seems like it would be a lot of fun and exciting to attend!  So get your cowboy hats and boots ready to attend a fun show with your family!
PBR heads back to the City of Fountains for the 14th consecutive year with the
Kansas City Invitational
. For two nights, fans will witness the intense matchups between man and best, where 8 seconds can mean victory or defeat to each opponent.
Missouri's own PBR bull riders Mason Lowe (and possibly Brady Sims) will be competing as part of the Top 35 bull riders in the world at the Sprint Center Feb. 11-12. These riders will be going up against the most challenging bulls in the sport during the two day event, for a piece of the $140,000 payout.
Be sure to fill out the form below for a chance to win!
Kansas City Exclusive E-mail List for Enza's Bargains
If you are in KC and want me to e-mail you free movie passes, giveaways, and information on local entertainment please be sure to subscribe to my e-mail!  Those who have subscribed get first dibs usually on tickets and giveaways! Subscribe HERE.  Now since you have subscribed, be sure to fill out the form for your official entry!